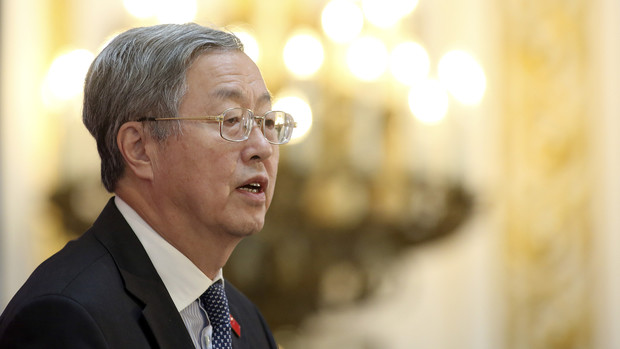 Photographer: Chris Ratcliffe/Bloomberg
Zhou Xiaochuan, governor of the People's Bank of China
Speculation about the retirement of China central bank GovernorZhou Xiaochuan, a champion of shifting the world's second-largest economy to greater reliance on markets, is resurfacing, focusing attention on potential successors.
With Zhou, 66, past the typical retirement age for senior officials and a Communist Party leadership meeting looming next month, social media chatter on his possible exit escalated. The Wall Street Journal said yesterday party boss Xi Jinping is considering replacing Zhou, citing unidentified officials. The China Times this month published an opinion piece on prospects for ex-securities regulator Guo Shuqing taking the job.
Six of 13 economists in a Bloomberg News survey this month cited Guo, 58, as the most likely successor when Zhou does leave. Five predicted it would be People's Bank of China Deputy Governor Yi Gang, 56. The government, which controls the PBOC, hasn't publicly signaled its intention and rounds of speculation in 2007 and 2012 that Zhou would be replaced failed to pan out.
"There will eventually be a rumor that's right -- Zhou will retire at some point," David Loevinger, former U.S. Treasury Department senior coordinator for China affairs and now a Los Angeles-based analyst at TCW Group Inc., said in an e-mail. "I've met Guo several times. He's an accomplished economist, banker and regulator with a good understanding of the international financial system."
PBOC Challenges
The PBOC, along with the rest of the nation's policy making community, is grappling with a slowdown in growth and efforts to follow through on a pledge to give markets a "decisive" role in the economy. Zhou, at 11 years the longest-serving PBOC chief on record, has advocated freeing up controls on interest rates and reducing intervention in the exchange rate.
"If Guo were to replace him, I wouldn't expect much change in Chinese policy," said Nicholas Lardy, author of the book "Markets Over Mao" and a senior fellow at the Peterson Institute for International Economics in Washington. "Guo Shuqing has very similar strong reformist credentials as Governor Zhou."
With Premier Li Keqiang's target for economic expansion of around 7.5 percent this year under threat, the PBOC has applied targeted monetary-easing measures that have stopped short of interest-rate cuts or reductions in banks' required reserve ratios. "A central banker who is taking the punch bowl away is never popular," Loevinger said.
Top Contender
The PBOC didn't respond to faxed questions yesterday and a telephone call made outside of business hours had no response. The Wall Street Journal reported that Guo, the governor of Shandong province who also has experience running a state-owned lender and the foreign-exchange regulator, is the top contender to replace Zhou. The PBOC said Zhou won't be stepping down soon, the newspaper said.
"Guo Shuqing would be a first rate replacement, should that turn out to be the case," Stephen Roach, former chairman of Morgan Stanley Asia, wrote in an e-mail after the WSJ report. "He is well steeped in Chinese and global macro issues and has great experience as a regulator, banker, and as a provincial governor to bring to this important position."
A new PBOC chief now would inherit risks from a debt surge that helped sustain China's world-beating economic growth even as it evoked comparisons with the excesses in leverage that generatedJapan's lost decades.
Driver's Seat
"It's the driver's seat in tackling China's mounting financial risks," said Yuan Gangming, an economist with the Chinese Academy of Social Sciences, a government research agency in Beijing. "An ideal successor will be clean of the stimulus decision-making and a true master at solving financial risks." Yuan didn't take part in the Bloomberg survey.
The Communist Party appointment process is a closed-door affair compared with the U.S., where Federal Reserve nominees face a grilling by lawmakers. Last year's rivalry between Janet Yellen and Lawrence Summers became unusually public.
Bloomberg News conducted the survey Sept. 11-24 with analysts who follow China's economy for domestic and foreign securities firms. Respondents were given anonymity to encourage participation because the Communist Party deems personnel decisions to be a sensitive topic and hasn't given an indication of when Zhou will leave his post or who his replacement will be.
Economists Split
Economists were split on when Zhou will step down or be replaced: two said this year, three saw 2015, five bet on 2016 and three predicted 2017 or later, the survey found.
Other potential central bank chiefs cited in the survey included PBOC Deputy Governor Hu Xiaolian, the only woman named, who got one vote as the most likely replacement for Zhou; and Finance Minister Lou Jiwei, also with one vote.
Guo's rising career in China's financial system took a turn last year when he was named governor of Shandong, China's second-most populous province with 97 million people -- more than Germany or Turkey.
The opinion piece published in the China Times newspaper earlier this month was headlined "If Guo Shuqing becomes central bank governor." Guo's experience with regulators, banks and local governments make him an ideal replacement for Zhou, the newspaper said.
On Weibo, a Twitter-like service in China, 354 posts this month included Guo Shuqing's name, almost as many as the prior three months combined. There were 82 posts with both the phrase "central bank governor" and "Guo Shuqing" in September, a search yesterday showed.
Past Reforms
Under Guo's leadership from 2011 to 2013, the China Securities Regulatory Commission expanded foreign investor quotas to buy stocks, cut trading fees and pushed companies to increase dividends. At China Construction Bank Corp. (939), he oversaw share listings in Hong Kong andShanghai.
Guo appeared on U.S. television in September 2011, telling host Charlie Rose that China lacks creative talent and its government intervenes too much in business.
"Guo knows both theory and practice, making him a hot candidate," said CASS's Yuan, 61, who has studied China's economic reforms for the last three decades.
Respondents to the survey were more united when asked who they thought would do the best job as PBOC governor. Nine analysts named Yi, who also serves as head of the State Administration of Foreign Exchange.
FX Reserves
Yi, who holds a doctorate in economics from the University of Illinois, has been managing the country's foreign-exchange reserves, now at $4 trillion, since July 2009. This year he also became a deputy director of the Communist Party's Office of the Central Leading Group for Financial and Economic Affairs, a key position in mapping out policies.
A onetime competitive swimmer who studied and worked in the U.S. from 1980 to 1994, Yi joined the PBOC in 1997 and often represents China at international meetings.
"As the Fed begins to contract global liquidity and move U.S. rates higher, it is more important to have someone with extensive understanding of the linkages between external and domestic liquidity," said Victor Shih, a professor at the University of California at San Diego who studies China's politics and finance, and wasn't a survey respondent. "In that area, I think Yi Gang has the deepest experience," Shih said in an e-mailed response to questions.