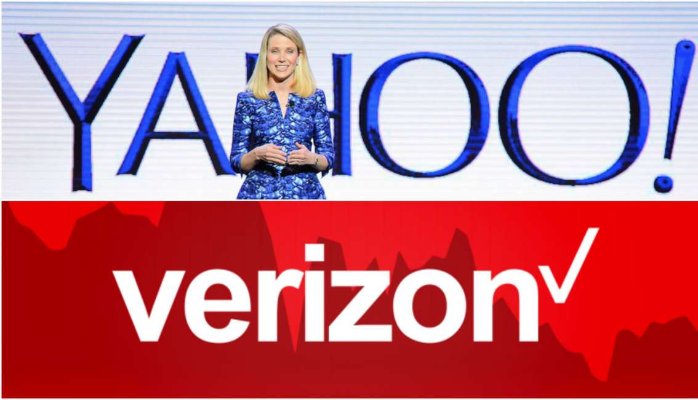 Communications giant Verizon is reportedly close to acquiring the former Internet trailblazer Yahoo for a cool $5 billion. The largest wireless carrier in the US already picked up what was left of AOL last year for $4.4 billion as they expanded into the online content business.
Founded in 1994, Yahoo was the original template for a successful Silicon Valley startup. Blinded by arrogance and resistance to pivot in a market environment that increasingly demands more contributed to their steady decline, they started a steady decline. Under the aegis of Verizon, they might jump back into the 21st century.
Yahoo on the Decline
Anyone that is unfortunate enough to possess a Yahoo e-mail account will testify that the continued bombardment of adverts provides the worst customer experience imaginable. The new kids on the block (Google, Facebook and Amazon) are more agile with better technology than the increasingly out of touch Yahoo. When you put Verizon, AOL, and Yahoo in the same sentence, the word "cutting-edge" probably doesn't come to mind
Yahoo recognised this issue also. That's why four years ago Marissa Mayer was recruited from Google as the new CEO of Yahoo to revive the ailing company. Recently, her cryptic comments about Apple raised more than a few eyebrows and led to speculation that Yahoo could soon replace Google as the search engine of choice on the iPhone.
Be that as it may, Mayer received vitriol and is now seen by many as a poisoned chalice. Although some may hesitate to embrace Yahoo no matter what end of the digital journey they are on, those on the inside seem relatively safe—well, at least Mayer does. Rumors of a severance package between $55 million and $157 million promise to make Mayer's exit relatively painless. I think this is an insane amount of cash for someone who arguably failed at her task.
Rumor aside, the questions remains, "Why?"
Why would Verizon consider acquiring Yahoo?
Why Would Verizon Buy Yahoo?
It's important to remember that Verizon's combined Yahoo/AOL entity will also contain big names such as Huffington Post, Engadget, TechCrunch, Flickr and Tumblr. In sum, those platforms attract tens of millions of visitors every month.
As we turn our backs on landlines and wired Internet connections, Verizon is wise to focus energy on its wireless business, which now accounts for 70% of its revenue. Also, by arming itself with mobile video, content, and online advertising technology, it seems Verizon is poising itself for a major pivot.
Verizon's purchase of AOL and Yahoo smells of digital transformation. It might be attempting to move its business from analog to digital. Their technological capacities have certainly increased. With the purchase of AOL, Verizon secured programmatic ad-buying and targeting tools for mobile and video; with Yahoo, they could bolster their armament.
From a business perspective this appears sound, but what of the omnipotent customer? How long until a service provider promoting its self-serving content raises a few red flags with regulators? The idea of a platform only displaying content from its partners could quickly backfire if they don't achieve the right balance for users.
Oldies but Goodies
I am a sucker for nostalgia. There is something quite poetic about 90s icons being reunited to create a new online media entity. And yet, it's doubtful.
The business models of the 90s are no longer relevant in a digital world and unfit for the sharing economy. And one of the biggest issues that legacy companies face internally is getting their executives to adopt the digital transformation mindset. As they saying goes, old habits die hard.
Those habits can be the toughest part of digital transformation. We shouldn't belittle the import of internal dynamics to the customer experience. After all, the new currency in business are customer experience, trust, security, and privacy. If the old guard attempts to replicate the successes of their past by restricting users and bombarding them with self-serving advertising, it could be the final nail in the coffin.
Technology is now built around customer needs, wants and desires. Tech is evermore ingrained in our lives and shapes how we interact with it and each other. Any attempts to drag us back to the old way of doing things will be met with resistance.
As Verizon implement their digital transformation strategy, I find myself wondering whether they are more connected or more disconnected.