The US Dollar Index (USDX) has been consolidating throughout August, in what can be considered an ascending triangle as you can see in the 4H chart. You can see that throughout the consolidation, there was bullish bias since price was still trading above the 100-period SMA, and the RSI was holding above 40 after it tagged above 80 - a sign the bullish momentum is maintained.
Today, after inflation and housing data from the US, which I will discuss below, the USDX rallied above the 81.76 consolidation resistance into new highs on the year.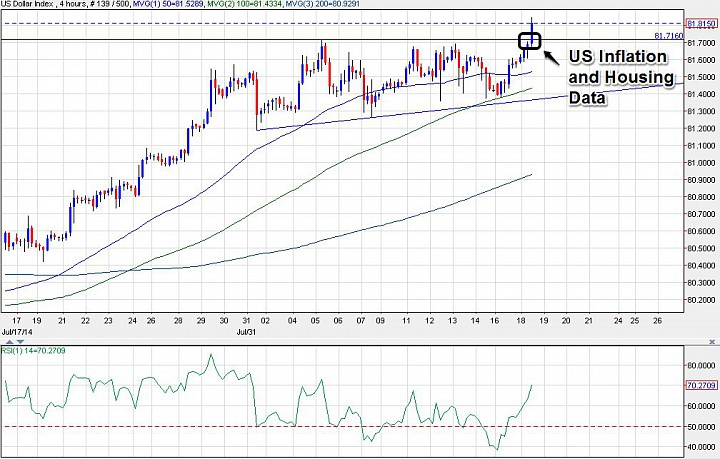 (USDX 8/19 4H Chart)
US CPI inflation in July (m/m): 0.1%, Forecast: 0.1%, June: 0.3%
US Core Inflation in July (m/m): 0.1%, Forecast: 0.2%, June: 0.1%


(source: forexfactory.com)

Inflation in July slowed, as the month-to-month reading came in at 0.1% for both the headline and core reading. On the year however, it is 2.0%, which is on target. Still, the recent downturn in price pressure is likely to bring the annual rate down. 
While inflation ticked lower as expected, housing data surprised to the upside.
Building Permits in July came in at an annualized rate of 1.05M, up from the 0.97M reading in June. This beat forecast of a 1.00M print.
Housing Starts came in at 1.09M, up from the 0.95M print in June, also in annualized terms. Forecasts called for around a reading of 0.97M.
Housing Starts:


(source: forexfactory.com)
Improvements in housing permits and construction should help increase a thin inventory that has impeded strong improvements in the housing market, so the upside surprise here bodes well for the US economic recovery, so it shouldn't be a surprise that the US Dollar continues to rumble.