The Kiwi has had a nice run of data recently showing that the RBNZ is likely going to be one of the first central banks that traders follow to take on a hawkish bias. (I wonder sometimes how the lowly NZD got to be included in that group of currencies but I suppose there are some benefits to having been run by the British, but I digress).
That view of the central bank has been one of the reasons I have taken a bullish bias in this currency. Now, I know there are plenty of cross currents to consider when it comes to the USD as taper talk is everywhere, and with US yields rising we'd think the USD would benefit. But, with my general NZD bias and this idea being more a technical one, I'll take a stab at playing the long side here.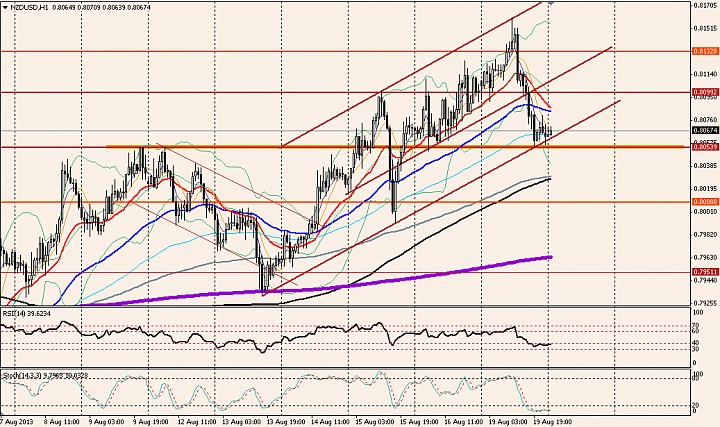 My main considerations are:
The important old level of resistance turned support at 0.8050 which was tested and held today after a fairly steep decline which blew off some of the overbought signals in this 1-hour time-frame.
That being said, I like that the RSI did not fall all the way down to 30 (which would be an indication of new bearish momentum) and instead stopped at the 40 area ( a possible continuation signal).
The pair still remains within the upward sloping channel with our support trendline in that channel coming from connecting our most recent lows. In fact we are testing that right now and therefore a bounce off here would be ideal.

The pair also remains above the 200-EMA in this pair, which means we are in a b

The thing with this trade set-up is that if I'm wrong, I'll be proven wrong fairly quickly as a break of that aforementioned support level and break of the short-term channel will likely invalidate the trade. Now, it doesn't mean that the pair turns bearish or even sideways, but if we fall further back it will be a bit of a different set-up and I'll have to reconsider how I would re-enter at that point.
- Nick