On Friday (8/5) we saw both the US and Canadian jobs data for July.

The US Non-Farm Payroll (NFP) report showed 209K jobs added in July, which was better than the 182K forecast. More importantly, labor market data showed that earnings rose 0.3%, which was better than the 0.2% forecast. This data supports the Fed's current projection of 2 more rate hikes in 2017.

Canada's jobs report was pretty much as expected: "The unemployment rate in Canada was reported to drop to 6.3% in July, ahead of the analyst expectation for a reading of 6.5%. Statistics Canada recorded an additional 10,900 jobs which was in line with the consensus for a gain of 10,000 jobs and followed a gain of 45,300 jobs in the prior reading." (Economiccalendar.com).

The US jobs data had a reassuring effect for the rate hike expectations, whereas the Canadian jobs data was kind of subdued, and underwhelming. The market like the USD across the board after the NFP report. With the Canadian data released at the same time, we can see a bullish reaction in USD/CAD immediately after the release of both country's jobs data.

USD/CAD Daily Chart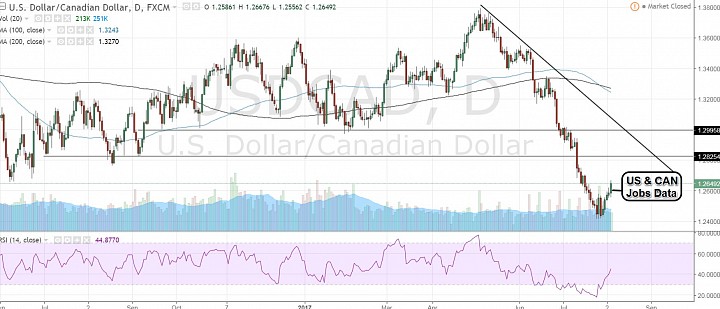 (click to enlarge)

Bullish Correction:
- The USD/CAD was already in a bit of a consolidation before the US and Canadian reports.
- After those jobs reports, USD/CAD rallied and closed above 1.26.
- I think if price can hold above 1.25 next week, USD/CAD has upside first 1.28, and then 1.30.
Support:
- As we can see on the 4H chart, price is trying to rally from a price bottom formed last week.
- If price retreats, the 1.2550 level will be key. A break below 1.2550, not even 1.25, could signal a failed bullish attempt.
- This scenario would reopen the lows around 1.2430, with risk of breaking lower.
USD/CAD 4H Chart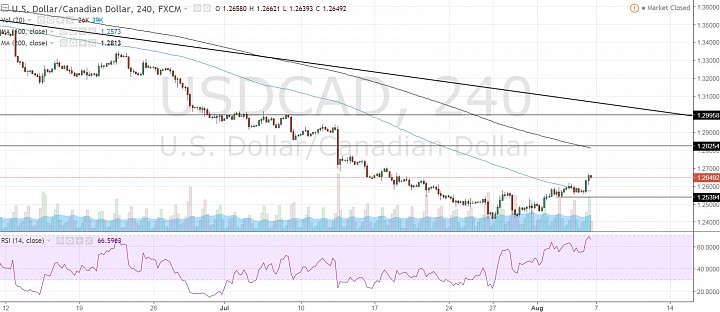 (click to enlarge)