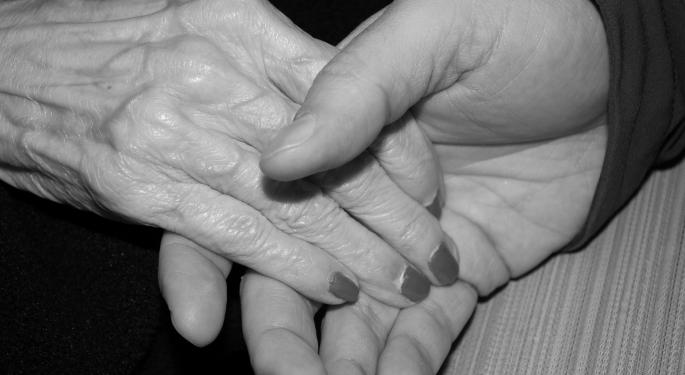 Eli Lilly and Co LLY fell steeply Wednesday after it announced that its Alzheimer's disease treatment candidate solanezumab didn't meet the primary endpoint in a late-stage clinical trial dubbed EXPEDITION3. In a sympathy move, Biogen Inc BIIB also traded notably lower. Is the knee-jerk reaction to the development a hasty move or a judicious decision?
Voices From The Street
Experts explore the implications of Eli Lilly's trial results:
Raymond James said it would be buyers of Biogen on weakness following Eli Lilly's failed EXPEDITION3 trial. The firm is of the view that this may be a clearing event with respect to any takeout.
Morgan Stanley called a flat to a slightly up close for Biogen, as it is of the view that aducanumab is more potent than solanezumab. The firm said indication of activity/trends would keep amyloid debate alive.
While making note of the magnitude of decline in Biogen shares, JPMorgan said it sees a transient 5–15 percent down move in Biogen shares, although it expects the shares to recover.
Credit Suisse said it is hard to get strong read-through conclusions from Eli Lilly's study without additional details. The firm expects the biotech space to be weak on the headline news, which is negative when positive news is needed.
Baird said it is not making any change to Axovant Sciences Ltd AXON on Eli Lilly's solanezumab failure. The firm sees Intepirdine commercial opportunity in Alzheimer's Disease to be multiple billions per year.
Leerink had predicted a 60 percent downward plunge in AC Immune Ltd ACIU shares if the EXPEDITION3 data were not favorable, but a 40 percent upward move on a favorable outcome on the trial. AC Immune shares were down over 15 percent on Wednesday.
In a tweet, TheStreet's Adam Feuerstein said, "Worst thing: $LLY gamed sola study to win but still failed badly, which tells you these amyloid mAbs are weak drugs. Watch out, $BIIB."
On Wednesday:
AC Immune slumped 15.99 percent to $11.51.
Axovant was up 3.35 percent to $13.90.
Biogen shares were down a more modest 4.02 percent to $305.32.
Eli Lilly shares plunged 10.54 percent to $67.98.
Date
Firm
Action
From
To
Oct 2016
Leerink Swann
Initiates Coverage On
Outperform
Oct 2016
Credit Suisse
Initiates Coverage On
Outperform
Oct 2016
Jefferies
Initiates Coverage On
Buy
© 2016 Benzinga.com. Benzinga does not provide investment advice. All rights reserved.