Office Depot, Inc. (NASDAQ: ODP) today issued the following statement from Chairman and Chief Executive Officer Roland Smith after the U.S. District Court in the District of Columbia granted the Federal Trade Commission's (FTC) request for a preliminary injunction to block the proposed merger of Staples, Inc. (NASDAQ: SPLS) and Office Depot.
Smith commented:
"While we are respectful of the Court's decision to grant the FTC's request for a preliminary injunction to prevent our merger with Staples, we are disappointed by this outcome and strongly believe that a merger would have benefitted all of our customers in the long term. We do not intend to appeal the Court's decision and the two companies plan to terminate the merger agreement effective May 16, 2016.
"As the Staples merger process comes to an end, we look forward to re-energizing our business. We remain committed to delivering our 2016 Critical Priorities and realizing the remaining synergies and efficiencies that come from the integration of Office Depot and OfficeMax. Once the Staples merger agreement is formally terminated, we plan to host an investor conference call on May 16 to discuss next steps in our go-forward strategy."

(Article from StreetInsider.com)
Let's take a look at both of these stocks and see how the market reacted to the news that the merger is off.

Staples (SPLS) 4H Chart 5/11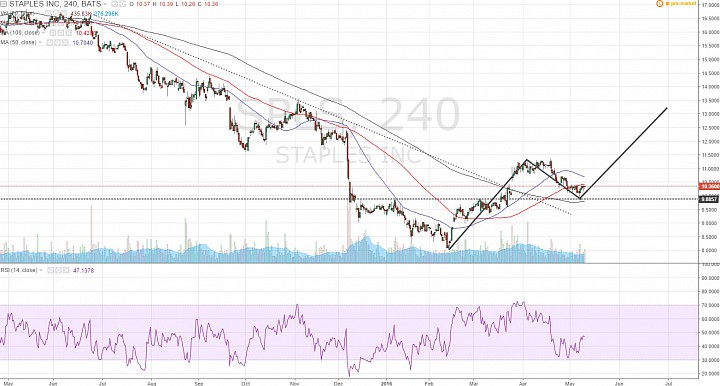 (click to enlarge)

We can see that SPLS formed a price bottom in early 2016 and broke higher in March into April. Then there was a pullback from 11.35 back to the previous broken resistance around 9.90. 

As we can see price held above this previous resistance level, treating the price bottom as support. The reaction after the announcement that the merger was off added some intra-session volatility but the overall picture remains somewhat bullish. If price however retreats below 9.90 this week, we would have to consider a bearish scenario. But for now, we can anticipate a bullish push, perhaps in an ABC projection, which would target 13-13.25. A slightly less aggressive target at 12.50 would also make sense - the "central pivot" of a previous consolidation. We should also expect some selling around the 2016 high so far at 11.35.

A break above 10.50 in the next couple of sessions should be a good sign for this bullish outlook.

Office Depot (ODP) 4H Chart 5/11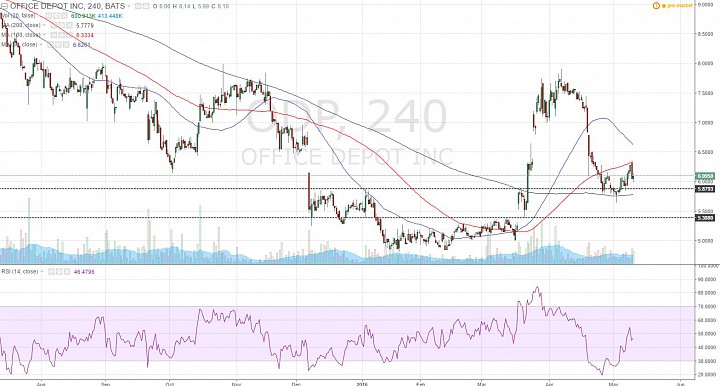 (click to enlarge)

Office Depot also completed a price bottom in 2016. It rallied sharply and retreated sharply. So far, price is respecting the price bottom and showing some bullish bias. 
However, I do not like the price action yesterday. The 4H chart shows a bearish engulfing candle. Now, a break above 6.35 would eliminate the bearish threat from this bearish candle. It would also indicate resilience and confidence of the market despite the failed merger attempt. Above 6.35 we can expect first a test of the 7.00 support/resistance pivot, then the common resistance around 8.00, which would be a decent gain.  

To the downside, if price breaks below 5.65, we should anticipate pressure back towards price bottom around 5.00. I would stay on the sideline if that happens.