EOG Resources Inc (NYSE:EOG) recently reported pretty solid second-quarter results as adjusted production was up while costs were down. That said, EOG Resources is much more focused on its costs and returns than it is on production right now, which is something CEO Bill Thomas made abundantly clear on its second-quarter conference call. Here are five things he wanted investors to know.
1. Our primary focus this year is on improving returns
Thomas led off his prepared comments on the call reminding investors of the company's primary focus saying,
Our goal this year is to remain laser focused on improving returns. At the beginning of the year, we noted that our after-tax rate of return at $65 oil were better than at $95 oil three years ago. We are pleased to report that we have further improved these well economics even as oil prices have declined. Through improved well productivity and lower cost, our key oil plays now are in a 30% after-tax rate of return with a flat $50 oil price.
What's remarkable is that EOG Resources has improved its well costs in several of its plays so that they now deliver better returns in the $55-$65 per barrel range than they did when oil was over $95 per barrel. We can see this in the following chart.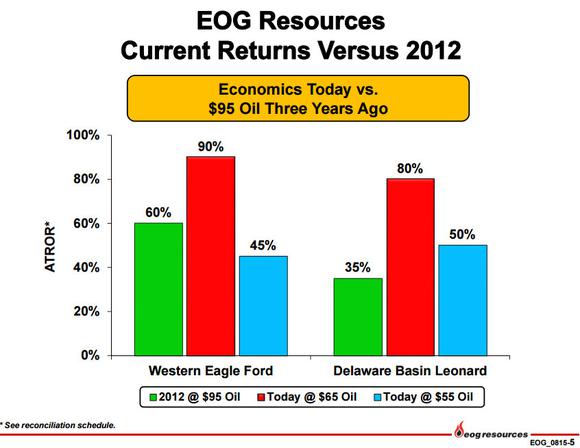 This is enabling the company to drill economical wells even in the sub-$50 per barrel range we've been experiencing of late.
2. We are an innovator
The main reason for this is because EOG Resources is a leader in innovation and technology. Thomas pointed out this is really driving results saying that,
We developed in-house, integrated completion technology that consistently drives field recoveries higher and maximizes NPV. During the first five years of drilling...
More