Zimmer Biomet (ZBH) preannounced second-quarter earnings near the low end of its previous forecast, but the shares are still trading up Wednesday on news of its CEO's departure.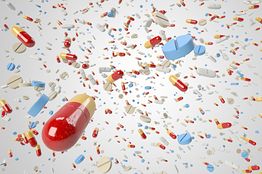 Zimmer said that it expects to report revenues of $1.954 billion on earnings per share at or near the bottom of its guidance range of $2.08 to $2.13. Analysts were expecting EPS of $2.11.
The company also said that CEO David Dvorak is stepping down, effective today, with the CFO taking over his role on an interim basis.
Analysts were largely upbeat about the leadership transition, but warned that Zimmer will have to choose its next leader well. Guggenheim's Chris Pasquale upgraded the stock to Buy from Neutral on the news, establishing a $157 price target:
[W]e see the potential for meaningful value creation at Zimmer if the company is willing to rethink its portfolio and prioritize diversification into higher growth adjacencies. As we approach the 1-year anniversary of the lingering...
More