Moscow promises to adopt countermeasures against Washington's new sanctions that target a number of Russian defense companies. The Kremlin added that the countermeasures will not necessarily be 'mirrored'.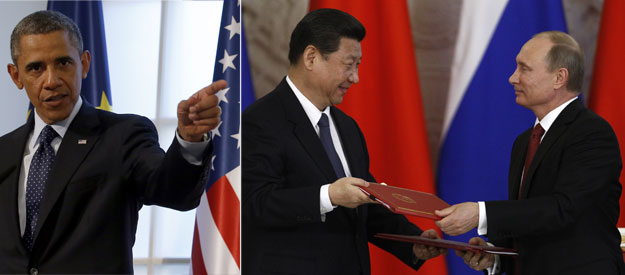 Russia's Foreign Ministry noted that the Americans are using the Ukrainian crisis and expanding sanction lists in order to make Russia behave 'unacceptably'.
"Washington's actions devalue its own signals on its interest in cooperation with us in solving a number of pressing international problems. It looks like the futility of attempts to put sanction pressure on us doesn't teach the Washington strategists anything," Foreign Ministry's statement read.
The U.S. has recently announced a new batch of sanctions against a number of Russian defense firms. The Americans accuse the firms in violating the law of the Iran, North Korea and Syrian Nonproliferation Act (INKSNA).
Russia's Foreign Ministry emphasized that the new sanctions will hit U.S. interests back.
"We emphasize that the U.S. should not cherish illusions regarding the possibility that it can continue this line without negative consequences for itself. We will take countermeasures, but not necessarily mirror [the U.S. expansion of sanction lists]," the Russian Foreign Ministry's statement said.
Is U.S. annoyed with Russia's stance on the global arena?
The ministry is also certain that it's not bringing down intensities in hot spots that is moving Washington, but rather its annoyance with Russia's stance on the global arena.
The Russian Foreign Ministry called the expansion of the 'black list' "another element in a series of hostile actions the U.S. has lately undertaken against Russia in various fields, including the military, economic, and visa ones."
The ministry also noted the growing 'unacceptable rhetoric' coming from Washington, adding that this kind of strategy worries even U.S. allies.
The U.S. sanction list covers 23 foreign companies, including a few firms from Russia. U.S. ministries and departments cannot sign contracts with the companies that have been...
More