Falls Church, VA-based Northrop Grumman Corp.'s NOC unit, Mission Systems, has won a modification contract from the U.S. Air Force. The contract is valued at $49.3 million and is awarded by the Air Force Life Cycle Management Center, Robins Air Force Base, GA.

Details of the Deal

Per the contract, Northrop Grumman will provide maturation and risk reduction technical services for the Embedded Global Positioning System and Inertial Navigation System-Modernization (EGI-M) technology.

Work is scheduled to be complete by Jun 30, 2018 and will be performed in Woodland Hills, CA. The contract will use fiscal 2017 research, development, test and evaluation funds.

Our View

We believe that Northrop Grumman has significant upside potential due to the U.S. government's heightened focus on Intelligence Surveillance Reconnaissance (ISR), unmanned systems, force protection, cyber security, and missile defense.

Moreover, Donald Trump's presidency seems to have created a win-win situation for the Aerospace and Defense companies like Northrop Grumman, Lockheed Martin Corp. LMT, The Boeing Co. BA and Huntington Ingalls Industries, Inc. HII. Evidently, the outlook for stocks in this space has improved manifold in recent months, notably with enhanced spending promises that Trump made in his latest "America First" budget. A moderate flow of funds from the Pentagon added to the optimism.

Meanwhile, the fiscal 2017 budget proposal reflected an annual increase of approximately $2.2 billion over the fiscal 2016 budget. Again, recently the Trump administration has put forward a request for additional fiscal 2017 appropriations. Under this additional appropriations, the White House requested an extra base budget of $24.9 billion and Overseas Contingency Operations (OCO) budget worth $5.1 billion; taking total budget appropriation to $30 billion for fiscal 2017. The increased spending would be allocated to certain key areas that might unlock significantly higher opportunities for Northrop Grumman.

Price Movement

Northrop Grumman's stock has improved about 19.7% in the last one year, underperforming the Zacks categorized Aerospace–Defense industry's increase of 25.7%. This could be because higher operating expenses continue to partially impact Northrop's profit margin. Moreover, the company may be challenged by economic and political factors. Again, in a highly competitive environment, customers might get attracted to similar products offered by Northrop's peers at a lower price, which remains a major concern.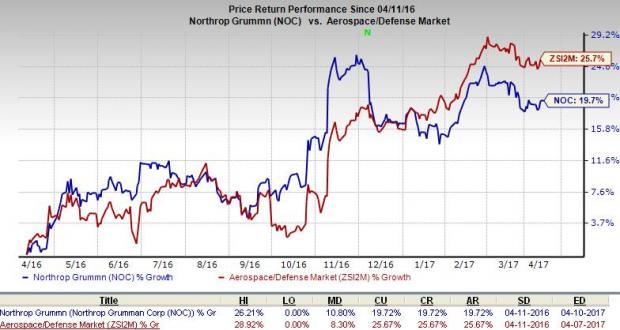 Zacks Rank

Northrop Grumman currently carries a Zacks Rank #3 (Hold). You can see the complete list of today's Zacks #1 (Strong Buy) Rank stocks here.

Zacks' Hidden Trades

While we share many recommendations and ideas with the public, certain moves are hidden from everyone but selected members of our portfolio services. Would you like to peek behind the curtain today and view them?

Starting now, for the next month, I invite you to follow all Zacks' private buys and sells in real time from value to momentum...from stocks under $10 to ETF to option movers...from insider trades to companies that are about to report positive earnings surprises (we've called them with 80%+ accuracy). You can even look inside portfolios so exclusive that they are normally closed to new investors. Click here for Zacks' secret trade>>
Want the latest recommendations from Zacks Investment Research? Today, you can download 7 Best Stocks for the Next 30 Days.
Click to get this free report
Northrop Grumman Corporation (NOC): Free Stock Analysis Report
Boeing Company (The) (BA): Free Stock Analysis Report
Lockheed Martin Corporation (LMT): Free Stock Analysis Report
Huntington Ingalls Industries, Inc. (HII): Free Stock Analysis Report
To read this article on Zacks.com click here.