At least 12 people are dead and eight people are injured as a result of the shooting at the D.C. Navy Yard on Monday. The attack began on Monday morning as some of the Navy Yard's 3,000 workers filed into their offices for the start of the work week.

Officials said the gunman, Aaron Alexis, 34, of Texas, was dead. NBC's Pete Williams reported that the shooter used the ID badge of an employee to get through that security and police had arrested the individual whose ID badge was used at his home Monday.
DC Police is still looking for an additional suspect as a black male between 40- and 50-years-old with graying sideburns and wearing an olive green military style outfit. The D.C. police said an earlier potential suspect, a white male in a tan Naval uniform outfit, was identified and was no longer a suspect or person of interest.
There is still unknown motive for the shooting.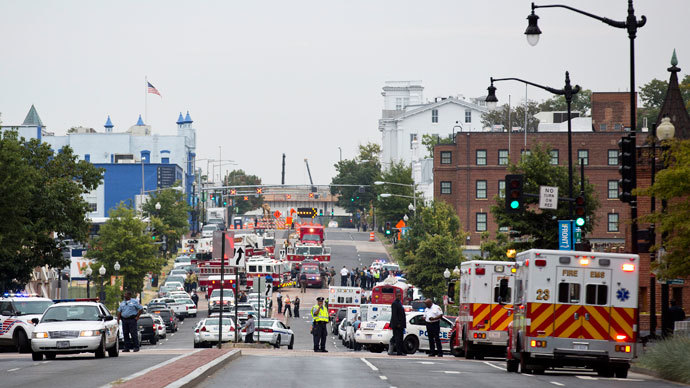 Image source: rt.com
Meanwhile, Emergency personnel, the FBI, U.S. Capitol Police and local D.C. police responded to the shooting, shutting down traffic in the area on the District's south side along the Anacostia River. Some people were evacuated, and others sheltered in place. Security was stepped up at the Pentagon. At least eight schools were on lockdown as a precaution. Air traffic to Reagan National Airport in northern Virginia, the closest airport to downtown Washington, was suspended but later resumed.
Regarding the Navy Yard, it is the headquarters, the largest of the Navy's five system, and the workplace for about 3,000 people.