Monster Beverage (MNST) is likely going to be bullish rest of the year, continuing the bullish price action in the first half so far. 

MNST Daily Chart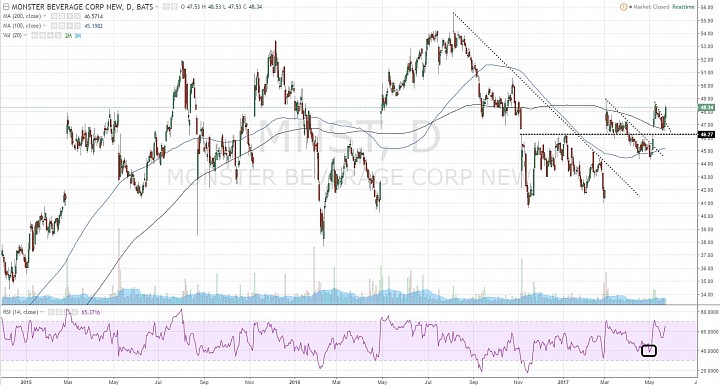 (click to enlarge)

Consolidation:
- Before talking about 2017, let's first acknowledge that MNST has been in consolidation mode since 2015, even though it did edge up higher highs later in the year, then again in 2016.
- Compared to the bullish price action going into 2015, price has definitely been trading sideways. 
Holding Above Support and Building Bullish Price Action:
- In late 2016, price came down and cracked 41, but held above 40, then consolidated roughly between 41 and 46.
- The previous support has been closer to 38.
- Instead of continuing towards 38, price broke above 46 in March.
- Then after choppy pullback, price confirmed the bullish breakout with a sharp bullish swing. Then again we had a couple of weeks of consolidation before price action became relatively stronger and bullish in the past couple of sessions.
- Finally, the RSI has tagged 70 and then held above 40, a sign that bullish momentum is developing.
Upside:
- The development of price action in this first half of 2017 suggests there is a bullish outlook for the rest of the year. 
- A conservative upside would be 54.00 around the 2016 highs. A slightly more aggressive, outlook would be above 55.
- Thestreet.com for example, just reported a Credit Suisse price target for MNST to at 59.
- At this time, a retreat below 46 could invalidate the bullish outlook.