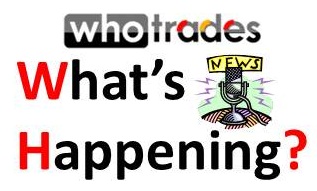 There is no S&P 500 Earnings Release on Columbus Day (this coming Monday). Please stay tuned for the update next week.
Important Data Releases:
Saturday, October 12, 2013
China:
Tentative Time Customs General Administration of China (CGAC) will release Trade Balance, which measures the difference in value between imported and exported goods during the previous month.
Japan:
4:00PM EST Bank of Japan (BOJ) will release BOJ Gov Haruhiko Kuroda Speaks at the International Institute of Finance Annual Membership Meeting, in Washington DC. As head of the central bank, which controls short term interest rates, he has important influence over the nation's currency value. Traders examine his speeches to drop subtle clues regarding future monetary policy and interest rate shifts.
Sunday, October 13, 2013
China:
9:30PM EST National Bureau of Statistics will release CPI y/y, measures change in the price of goods and services purchased by consumers.
Monday, October 14, 2013
Australia:
8:30PM EST Reserve Bank of Australia (RBA)will release Monetary Policy Meeting Minutes. It is a detailed record of the RBA Reserve Bank Board's most recent meeting, providing in-depth insights into the economic conditions that influenced their decision on interest rates.