We expect ImmunoGen, Inc. IMGN to beat expectations when it reports third-quarter 2017 results on Nov 3, before the market opens. Last quarter, the company delivered a positive earnings surprise of 28.57%.
ImmunoGen's earnings performance is a mixed bag. Of the last four quarters, the company surpassed expectations in two each, posted in-line results in one and missed estimates in another. Overall, ImmunoGen has an average positive surprise of 12.99%.
ImmunoGen, Inc. Price and EPS Surprise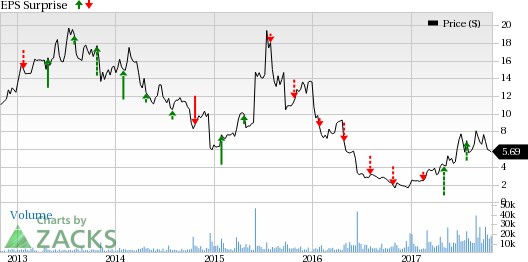 ImmunoGen, Inc. Price and EPS Surprise | ImmunoGen, Inc. Quote
ImmunoGen's shares have significantly outperformed the industry year to date. The stock has soared 179% against the industry's decrease of 2.2% during the same time.

Let's see how things are shaping up for this quarter.
Factors at Play
With no approved product in ImmunoGen's portfolio, investors' focus should remain on the company's progress with its lead pipeline candidate, mirvetuximab soravtansine, and other programs.
ImmunoGen has made a significant progress with regard to mirvetuximab soravtansine, currently in a phase III study (FORWARD I) as a single-agent therapy for treating patients with platinum-resistant ovarian cancer, whose tumors express high or medium levels of FR alpha.
Also, combination regimens with mirvetuximab soravtansine in ovarian cancer are in phase Ib/II FORWARD II study. The trial consists of cohorts assessing mirvetuximab soravtansine in combination with Roche's RHHBY Avastin and Merck's Keytruda. ImmunoGen reported initial data from the FORWARD II study in May, demonstrating the candidate to have potential to complement currently available therapies for the indication.
Apart from mirvetuximab soravtansine, ImmunoGen is working to develop a couple of other candidates, including IMGN779 and IMGN632. Notably, IMGN779 is being evaluated in a phase I study for treating acute myeloid leukemia with data expected later this year. On the other hand, the company plans to move IMGN632 into clinical development before this year-end to treat hematological malignancies including acute myeloma leukemia (AML).
We remind investors that ImmunoGen had entered into a strategic collaboration and option agreement with Jazz Pharmaceuticals in August for development and commercialization of IMGN632 and IMGN779. The company will receive up to $100 million in development funding over seven years to support the antibody-drug conjugate (ADC) programs.
In its last earnings call, the company had said that it has enough funds to continue its operations in the second quarter of 2018.
What Our Model Indicates
Our proven model shows that ImmunoGen is likely to beat on earnings because it has the right combination of the two key ingredients. For a stock needs to have both a positive Earnings ESP and a favorable Zacks Rank #1 (Strong Buy), 2 (Buy) or 3 (Hold) for this to happen.
Zacks ESP: ImmunoGen has an Earnings ESP of +15.99%, representing the difference between the Most Accurate estimate (loss of 21 cents per share) and the Zacks Consensus Estimate (loss of 25 cents per share). A positive ESP indicates a likely positive earnings surprise. You can uncover the best stocks to buy or sell before they're reported with our Earnings ESP Filter.
Zacks Rank: ImmunoGen has a Zacks Rank #3, which increases the predictive power of ESP and together with a positive ESP, chances of an earnings beat in the stock's upcoming release are pegged higher.
We caution against all Sell-rated stocks (#4 or 5) going into an earnings announcement, especially when the company is seeing negative estimate revisions.
Other Stocks That Warrant a Look
Here are some other health care stocks worth considering as these too have the right combination of elements to beat estimates this quarter:
Clovis Oncology, Inc. CLVS is scheduled to release results on Nov 1. The company has an Earnings ESP of +2.01% and a Zacks Rank #2. You can see the complete list of today's Zacks #1 Rank stocks here.
Agenus Inc. AGEN is scheduled to release results on Nov 7. The company has an Earnings ESP of +8.11% and carries a Zacks Rank of 2 as well.
Zacks' Best Private Investment Ideas
While we are happy to share many articles like this on the website, our best recommendations and most in-depth research are not available to the public.
Starting today, for the next month, you can follow all Zacks' private buys and sells in real time. Our experts cover all kinds of trades… from value to momentum . . . from stocks under $10 to ETF and option moves . . . from stocks that corporate insiders are buying up to companies that are about to report positive earnings surprises. You can even look inside exclusive portfolios that are normally closed to new investors.
Click here for Zacks' private trades >>
Want the latest recommendations from Zacks Investment Research? Today, you can download 7 Best Stocks for the Next 30 Days.
Click to get this free report
Roche Holding AG (RHHBY): Free Stock Analysis Report
Agenus Inc. (AGEN): Free Stock Analysis Report
Clovis Oncology, Inc. (CLVS): Free Stock Analysis Report
ImmunoGen, Inc. (IMGN): Free Stock Analysis Report
To read this article on Zacks.com click here.
Zacks Investment Research