NetScout Systems, Inc. NTCT recently announced a collaboration with French telecommunication company Bouygues Telecom. The deal is aimed at improving Bouygues' IP network and its Voice-over-LTE (VoLTE) quality management services.

Bouygues' partnership with NetScout will help it to quickly identify service issues and any irregularity in network, hence improving its service quality.

With NetScout's troubleshooting and Key Performance Indicator (KPI) features, the Bouygues team can tackle network issues before they hit subscribers.

As far as NetScout is concerned, this partnership will expand its presence in France and will eventually drive its top line. Notably, the company has outperformed the Zacks Computer-Networks industry on a year-to-date basis. While the industry gained 6.6%, the stock returned 12.7% over the same time period.



NetScout's Strong Presence in Networking Industry

NetScout, which provides network management solutions, was announced a leader in the Network Performance Monitoring and Diagnostics sector by Gartner in a report released in March. Per Gartner, NetScout has the largest market share and a loyal customer base.

Per MarketsandMarkets, the network management market is poised for accelerated growth and will be worth $11,058.6 million by 2019. We believe NetScout with its vast range of solutions including nGeniusOne platform, Infinistream platform and UC Performance Management is well poised to cash in on the positives.
NetScout Systems, Inc. Revenue (TTM)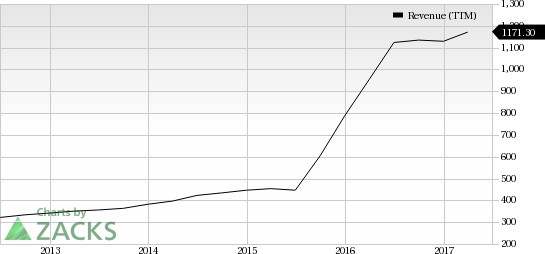 NetScout Systems, Inc. Revenue (TTM) | NetScout Systems, Inc. Quote
With collaborations such as these, NetScout is strengthening its presence in the industry. However, competition from industry peers like IBM IBM, Cisco Systems CSCO, Brocade Communications Systems, Inc. BRCD Riverbed Technology is a concern for the company.
Zacks Rank

NetScout Systems currently has a Zacks Rank #4 (Sell).

You can see the complete list of today's Zacks #1 Rank (Strong Buy) stocks here.

Today's Stocks from Zacks' Hottest Strategies
It's hard to believe, even for us at Zacks. But while the market gained +18.8% from 2016 - Q1 2017, our top stock-picking screens have returned +157.0%, +128.0%, +97.8%, +94.7%, and +90.2% respectively.
And this outperformance has not just been a recent phenomenon. Over the years it has been remarkably consistent. From 2000 - Q1 2017, the composite yearly average gain for these strategies has beaten the market more than 11X over. Maybe even more remarkable is the fact that we're willing to share their latest stocks with you without cost or obligation.
Want the latest recommendations from Zacks Investment Research? Today, you can download 7 Best Stocks for the Next 30 Days.
Click to get this free report
Cisco Systems, Inc. (CSCO): Free Stock Analysis Report
NetScout Systems, Inc. (NTCT): Free Stock Analysis Report
Brocade Communications Systems, Inc. (BRCD): Free Stock Analysis Report
International Business Machines Corporation (IBM): Free Stock Analysis Report
To read this article on Zacks.com click here.
Zacks Investment Research