Biogen Inc. BIIB, a well-known name in the multiple sclerosis (MS) market, surpassed expectations both for earnings and sales in the third quarter of 2017. The company's revenue was driven by continued a strong performance of its newest drug Spinraza, for spinal muscular atrophy.
Despite better-than-expected results, Biogen's shares were down almost 3% in pre-market trading. This was probably due to the fact that the sales of its multiple sclerosis franchise were below expectations amid an increasingly competitive market. However, we note that Biogen's shares have gained 15.8% so far this year, comparing unfavorably with the industry's increase of 9%.
Third-quarter 2017 earnings per share were $6.31, which comfortably beat the Zacks Consensus Estimate of $5.70 by 10.7%. Earnings also rallied 22% year over year.
Sales came in at $3.08 billion, up 4% from the year-ago period. Sales also surpassed the Zacks Consensus Estimate of $3.04 billion by 1.6%. The top line, excluding hemophilia revenues, grew 13% year over year. The company spun off its hemophilia business in February this year.
Quarter in Detail
Biogen's MS revenues were $2.3 billion in the quarter including approximately $65 million in royalties on the sales of Roche's MS drug Ocrevus.
Tecfidera sales increased 3% from the year-ago period to $1.07 billion. However, the drug recorded a 4% sequential drop in revenues. This included the U.S. sales of $836.3 million and ex-U.S. sales of $233.3 million. In the United States, Tecfidera Inventory levels in the third quarter were relatively flat compared with the year-ago levels, which hurt sales in the reported quarter.
Third-quarter Tysabri revenues were $469 million (U.S. $266.8 million, ex-U.S. $202.6 million), which decreased 9% year over year and 5% sequentially. We believe Ocrevus' launch has put pressure on Tysabri's U.S. sales in the quarter.
Combined interferon revenues (Avonex and Plegridy) in the third quarter were $662 million (U.S. $473.3 million, ex-U.S. $188.7 million), down 7% from the year-ago period. Avonex revenues declined 7% from the year-ago period to $538 million. Plegridy contributed $124 million to third-quarter 2017 revenues, down 3% year over year and 7% sequentially.
U.S. Interferon revenues are experiencing declining trends due to patients transitioning to other oral MS therapies as well as higher discounts and allowance.
Zinbryta, launched in collaboration with AbbVie Inc. ABBV in August last year, contributed $14 million to revenues in the third quarter, down 11% sequentially.
Newly launched Spinraza brought revenues of $271 million (U.S. revenues $197.6 million) in the third quarter, registering growth of 33.5% sequentially as the drug witnesses a strong demand in the United States. The company is working on expanding access to all patients.
This quarter, Biogen recorded biosimilar revenues of $101 million compared with $91 million in second-quarter 2017. The company markets Benepali, a biosimilar referencing Amgen Inc.'s AMGN Enbrel in Europe. Benepali recorded revenues of $99.2 million, registering a growth rate of 11.8% sequentially. Biogen also markets Flixabi, a biosimilar referencing Johnson & Johnson's JNJ blockbuster drug, Remicade, which recorded revenues of $2.2 million in the reported quarter compared with $1.9 million in the second quarter.
Revenues from anti-CD20 therapeutic programs, which include Biogen's shares of Rituxan and Gazyva operating profits, climbed 28% from the year-ago period to $406 million in the third quarter.
R&D spend decreased 15.6% in the reported quarter to $446.4 million, while SG&A spend declined 6.2% year over year to $433.8 million.
Collaboration Agreement
This month, Biogen announced restructuring of collaboration arrangements with Eisai and Neurimmune to improve long-term value of Alzheimer candidate aducanumab, which is presently in a phase III study.
Concurrent with the earnings release, Biogen announced a renegotiation of its agreement with Neurimmune by making a one-time payment of $150 million in exchange of a reduction in Neurimmune's 15% royalty rate on the potential sales of aducanumab. The re-negotiated deal thus increases aducanumab's profit potential.
On Oct 23, Biogen and partner Eisai refined their existing Alzheimer collaboration. Biogen already has an agreement with Eisai to develop the phase III BACE inhibitor, E2609 and the phase II amyloid-beta antibody, BAN240 for Alzheimer's disease. However, Biogen has announced that Eisai has exercised the option to jointly develop and commercialize aducanumab. The company will now receive 55% of aducanumab's potential profits in the United States, 68.5% in Europe and 20% in Japan.
Biogen Inc. Price, Consensus and EPS Surprise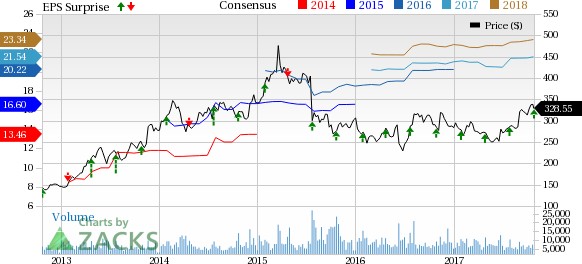 Biogen Inc. Price, Consensus and EPS Surprise | Biogen Inc. Quote
Zacks Rank
Biogen currently carries a Zacks Rank #3 (Hold). You can see the complete list of today's Zacks #1 Rank (Strong Buy) stocks here.
Today's Stocks from Zacks' Hottest Strategies
It's hard to believe, even for us at Zacks. But while the market gained +18.8% from 2016 - Q1 2017, our top stock-picking screens have returned +157.0%, +128.0%, +97.8%, +94.7%, and +90.2% respectively.
And this outperformance has not just been a recent phenomenon. Over the years it has been remarkably consistent. From 2000 - Q1 2017, the composite yearly average gain for these strategies has beaten the market more than 11X over. Maybe even more remarkable is the fact that we're willing to share their latest stocks with you without cost or obligation.
Want the latest recommendations from Zacks Investment Research? Today, you can download 7 Best Stocks for the Next 30 Days.
Click to get this free report
Johnson & Johnson (JNJ): Free Stock Analysis Report
AbbVie Inc. (ABBV): Free Stock Analysis Report
Amgen Inc. (AMGN): Free Stock Analysis Report
Biogen Inc. (BIIB): Free Stock Analysis Report
To read this article on Zacks.com click here.