While the message from the President is 'keep calm and avoid bodily fluids', it appears the commissioners in Dallas are slightly more concerned at the potential for Ebola to escalate:
*DALLAS COMMISSIONERS TO DECLARE LOCAL STATE OF DISASTER TOMORROW: NBC-TV
*DALLAS COUNTY CONSIDERS DECLARING STATE OF DISASTER FROM EBOLA
*DALLAS DISASTER DECLARATION

WOULD ACTIVATE EMERGENCY PLAN
While we are not sure where a "state of disaster" ranks relative to a "public health emergency" such as the one in Connecticut, we are certain of one thing - it will mean civil liberties will be reduced as government takes control.
BREAKING>> Emergency Dallas Commissioners Ct. Meeting Set for tomorrow at 2pm to declare Local State of Disaster

— Meredith Land (@MeredithNBC5)

https://twitter.com/MeredithNBC5/status/522541395899609088
*  *  *
Welcome to the new normal American police state.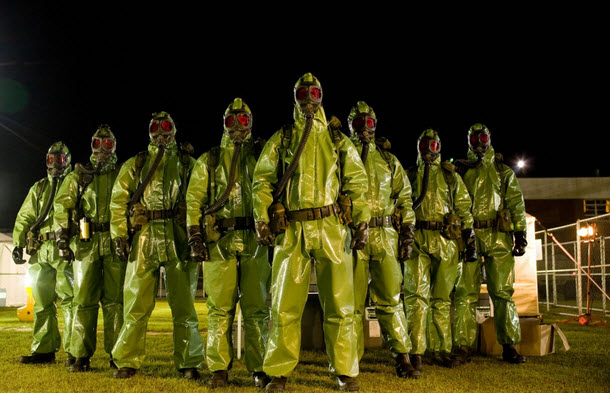 *  *  *
Perhaps even more concerning is that the CDC appears to have given the second nurse infected with Ebola permission to fly (despite her reporting she had an elevated temperature), as CBS reports:
CBS News Medical Correspondent Dr. John LaPook reports that Vinson called the CDC several times before boarding the plane concerned about her fever.

 

"This nurse, Nurse Vinson,  did in fact call the CDC several times before taking that flight and said she has a temperature, a fever of 99.5, and the person at the CDC looked at a chart and because her temperature wasn't 100.4 or higher she didn't officially fall into the category of high risk."

 

Vinson first reported a fever to the hospital on Tuesday (Oct. 14) and was isolated within 90 minutes, according to officials. She did not exhibit symptoms while on the Monday flight, according to crew members. However, the CDC says passenger notification is needed as an "extra level of safety" due to the proximity in time between the flight and the first reported symptoms.

 

"Those who have exposures to Ebola, she should not have traveled on a commercial airline," said Dr. Frieden. "The CDC guidance in this setting outlines the need for controlled movement. That can include a charter plane; that can include a car; but it does not include public transport. We will from this moment forward ensure that no other individual who is being monitored for exposure undergoes travel in any way other than controlled movement."
*  *  *
Do these people really know what they are dealing with?