Alarm.com Holdings, Inc. ALRM will report third-quarter 2017 results on Nov 8. In the second quarter, the company delivered a positive earnings surprise of 120%.
The surprise history has been good in Alarm.com's case. The company surpassed estimates in each of the trailing four quarters, with an average positive surprise of 73.1%.
We observe that the company's shares have gained 65.1% year to date, outperforming its industry's gain of 5.4%.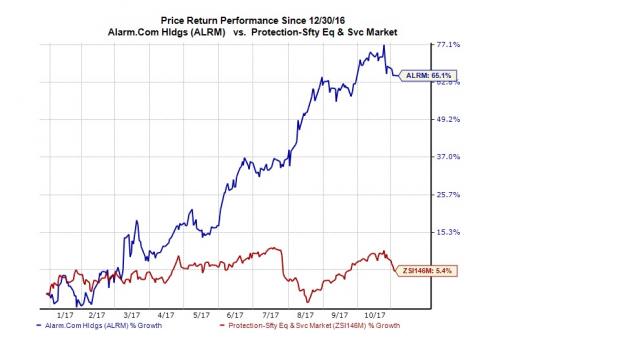 Let's see how things are shaping up for this announcement.
Portfolio Expansion to Drive the Top Line
Alarm.com has been expanding and enhancing its portfolio of video cameras to tap a wide range of commercial customers. In the second quarter, the company expanded its platform to intensify customer engagement and retention. We expect these factors to make significant contributions to Alarm.com's hardware and other revenues in the to-be-reported quarter.
Acquisitions to Boost Margins
Alarm.com closed the acquisition of Connect and Piper in first-quarter 2017 and the integration has been smooth so far. The company so far has deployed a number of joint development projects with the Connect and Piper teams with a view to ramp up R&D operations and better cater to customers. We expect these moves to contribute to Alarm.com's revenue and margin expansion in the to-be-reported-quarter.
Customer Connection Program to Increase Upsell and Retention
The company is also making considerable progress with its Customer Connection program aimed at increasing upsell and retention. Since its launch last year, the company has successfully added several pre-configured campaigns to help service providers increase up-sells and referrals and boost consumer engagement. Significant progress is also expected on this front.
Alarm.com Holdings, Inc. Price and EPS Surprise
Zacks Model Suggests a Beat
Please note that according to the Zacks model, a company with a Zacks Rank #1 (Strong Buy), 2 (Buy) or #3 (Hold) has a good chance of beating estimates if it also has a positive Earnings ESP. Zacks Rank #4 (Sell) or #5 (Strong Sell) stocks are best avoided, especially if these have a negative Earnings ESP. You can uncover the best stocks to buy or sell before they're reported with our Earnings ESP Filter.
Alarm.com has a Zacks Rank #3 and an Earnings ESP of +0.86%, a combination that suggests that the companyis likely to beat.
Other Stocks to Consider
Here are some stocks that you may also want to consider as our model shows these have the right combination of elements to deliver a positive earnings surprise:
NVIDIA Corp. NVDA, with an Earnings ESP of +1.60% and a Zacks Rank #1. You can see the complete list of today's Zacks #1 Rank stocks here.
Texas Instruments Incorporated TXN with an Earnings ESP of +0.42% and a Zacks Rank #1.
Adobe Systems Incorporated ADBE with an Earnings ESP of +0.25% and a Zacks Rank #1.
Wall Street's Next Amazon
Zacks EVP Kevin Matras believes this familiar stock has only just begun its climb to become one of the greatest investments of all time. It's a once-in-a-generation opportunity to invest in pure genius.
Want the latest recommendations from Zacks Investment Research? Today, you can download 7 Best Stocks for the Next 30 Days.
Click to get this free report
Adobe Systems Incorporated (ADBE): Free Stock Analysis Report
Alarm.com Holdings, Inc. (ALRM): Free Stock Analysis Report
Texas Instruments Incorporated (TXN): Free Stock Analysis Report
NVIDIA Corporation (NVDA): Free Stock Analysis Report
To read this article on Zacks.com click here.
Zacks Investment Research