Groupon Inc. GRPN reported non-GAAP third-quarter 2017 earnings of 1 cent per share. The figure was in line with the Zacks Consensus Estimate.
Revenues of $634.5 million declined 8% on a year-over-year basis (9% at FX neutral) and also missed the Zacks Consensus Estimate of $644.7 million.
Groupon's focus on domestic market is helping to increase its gross profit. The company's North American local units continue to grow and recorded a 13% year-over-year improvement in the third quarter. Further increase in local billings has also aided its performance. However, streamlining activities are hurting the top line.
Groupon stock has gained 54.3% year to date, underperforming the 59.9% rally of the industry it belongs to.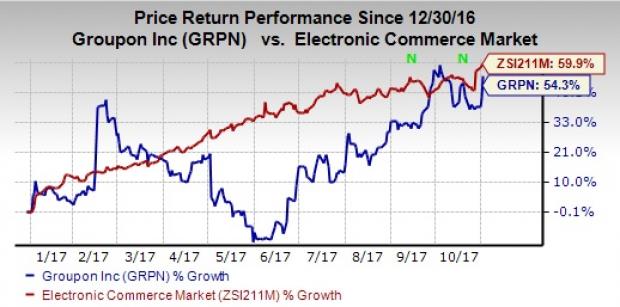 Quarter Details
Region-wise, North America revenues decreased 14% from the year-ago quarter while International revenues increased 8.4% year over year.
Billings from North America were up 0.9% year over year. However, international billings declined 2.6%.
North America local gross billings of $606.18 million grew 14.2%. Local revenues of $194.1 million grew 10.4% from the year-ago quarter. However, goods billings declined 22.6% to $229.48 million and revenues fell 29.4% to $201.82 million.
As of Jun 30, 2017, the company had approximately 49.1 million active customers globally. Groupon added nearly 600K new customers in North America during the quarter. Active customers in North America were 32.5 million at the end of the quarter.
Management noted that the company's new offering Groupon+ has been well accepted and its integration with Mastercard is also complete. This is expected to be a growth driver going ahead. It is currently operating in 23 markets.
The company's partnership with Grubhub GRUB enables customers to order food delivery from around 55,000 restaurant partners of Grubhub via Groupon platform.
Management noted that the company enjoyed a boost in the leisure category during the quarter. However, the devastating hurricanes that affected around 30 million people, representing about 10% of the U.S. population, negatively impacted revenues by about $5 million.
Groupon's management is particularly positive about the company's offline campaigning and brand awareness programs, which have aided revenue growth. With a proper mix of products coupled with accelerating consumer activities, management expects growth going forward.
Groupon, Inc. Price, Consensus and EPS Surprise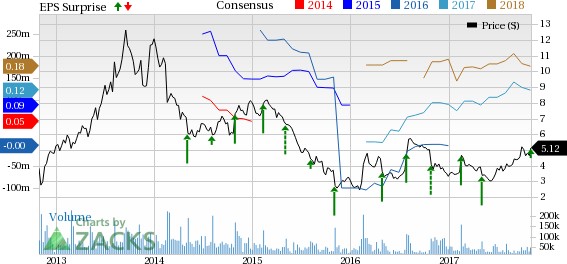 Groupon, Inc. Price, Consensus and EPS Surprise | Groupon, Inc. Quote
Operating Details and Cash Flow
North America gross profit increased 3% to $207.9 million. Internationally, it increased 11% (7% on an Fx-neutral basis). The hurricanes in late August and September had a negative impact of around $4 million on North American gross profit.
Successful implementation of the company's streamlining activities was evident from the 43% year-over-year increase in EBITDA, which totaled $466 million.
Free cash flow was $10 million in the third quarter.
Outlook
For the fourth quarter, Groupon expects revenues to be about $850 million.
For full year 2017, Groupon has raised its gross profit guidance range to $1.305 to $1.355 billion (up from the range of $1.30 billion to $1.35 billion), backed by impressive performance of the North American market.
Adjusted EBITDA is projected in the range of $225 million-$245 million, up from the range of $215 million-$240 million.
Zacks Rank & Key Pick
Hubspot has a Zacks Rank #2 (Buy).
Better-ranked stocks in the broader technology sector are NVIDIA Corporation NVDA and Facebook, Inc FB, both sporting a Zacks Rank #1 (Strong Buy). You can see the complete list of today's Zacks #1 Rank stocks here.
Long-term earnings growth rate for NVIDIA and Facebook is projected to be 11.2% and 25.6%, respectively.
Zacks' Best Private Investment Ideas
While we are happy to share many articles like this on the website, our best recommendations and most in-depth research are not available to the public.
Starting today, for the next month, you can follow all Zacks' private buys and sells in real time. Our experts cover all kinds of trades… from value to momentum . . . from stocks under $10 to ETF and option moves . . . from stocks that corporate insiders are buying up to companies that are about to report positive earnings surprises. You can even look inside exclusive portfolios that are normally closed to new investors.
Click here for Zacks' private trades >>
Want the latest recommendations from Zacks Investment Research? Today, you can download 7 Best Stocks for the Next 30 Days.
Click to get this free report
Groupon, Inc. (GRPN): Free Stock Analysis Report
Facebook, Inc. (FB): Free Stock Analysis Report
GrubHub Inc. (GRUB): Free Stock Analysis Report
NVIDIA Corporation (NVDA): Free Stock Analysis Report
To read this article on Zacks.com click here.
Zacks Investment Research