Upstream player Chesapeake Energy Corporation CHK reported strong third-quarter 2017 earnings, courtesy of higher oil equivalent price realizations and lower operating costs. Results were, however, partially affected by lower oil equivalent production.
Earnings per share (excluding special items) of 12 cents surpassed the Zacks Consensus Estimate of 10 cents and the year-ago adjusted figure of 9 cents.
Total revenues declined to $979 million from $1,177 million a year ago. The top line also lagged the Zacks Consensus Estimate of $1,041 million.
Operational Performance
Chesapeake's production in the reported quarter was approximately 50 million barrels of oil equivalent (MMBoe), reflecting a year-over-year decrease of 15.3%. Production comprised approximately 8 million barrels (MMbbls) of oil (flat year over year), 219 billion cubic feet (bcf) of natural gas (down 18.3%) and 5 MMbbls of NGL (down almost 17%).
Oil equivalent realized price – including realized gains (losses) on derivatives – in the reported quarter was $21.67 per barrel of oil equivalent (Boe) compared with $17.30 a year ago.
Total capital expenditure increased to $692 million from $412 million in the third quarter of 2016.
On the cost front, quarterly production expenses increased more than 8% year over year to $3.03 per Boe.
Expenses
Total third-quarter 2017 operating expense was $1,849 million, down more than 47% year over year.
Financials
At the end of the quarter under review, Chesapeake had cash balance of $5 million. Net long-term debt was $9,899 million.
Q3 Price Performance
During third-quarter 2017, Chesapeake lost 13.5% as against the industry's rally of 5%.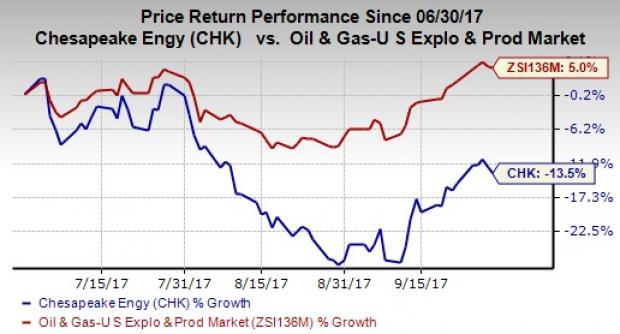 Guidance
Chesapeake's new production guidance for 2017 is 532,000-545,000 Boe per day, lower than the prior range of 541,000-562,000. Moreover, the recent capital budget projection for full-year 2017 is $2,300-$2,500 million as compared with the earlier band of $2,100-$2,500 million.
Zacks Rank & Key Picks
Chesapeake currently has a Zacks Rank #3 (Hold). A few better-ranked energy players are Par Pacific Holdings Inc. PARR, China Petroleum & Chemical Corp. SNP and Northern Oil and Gas, Inc. NOG. Par Pacific and China Petroleum sport a Zacks Rank #1 (Strong Buy), while Northern Oil carries a Zacks Rank #2 (Buy). You can see the complete list of today's Zacks #1 Rank stocks here.
Headquartered in Houston, TX, Par Pacific managed to beat the Zacks Consensus Estimate in three of the last four quarters, the average earnings surprise being 195.26%.
Headquartered in headquartered in Beijing, China Petroleum is a leading integrated energy player. The company will likely witness year-over-year earnings growth of 59.1% in 2017.
Based in Minnetonka, MN, Northern Oil is an upstream energy player. The company's 2017 revenues are estimated to grow 44.1%.
Zacks' Best Private Investment Ideas
While we are happy to share many articles like this on the website, our best recommendations and most in-depth research are not available to the public.
Starting today, for the next month, you can follow all Zacks' private buys and sells in real time. Our experts cover all kinds of trades… from value to momentum . . . from stocks under $10 to ETF and option moves . . . from stocks that corporate insiders are buying up to companies that are about to report positive earnings surprises. You can even look inside exclusive portfolios that are normally closed to new investors.
Click here for Zacks' private trades >>
Want the latest recommendations from Zacks Investment Research? Today, you can download 7 Best Stocks for the Next 30 Days.
Click to get this free report
China Petroleum & Chemical Corporation (SNP): Free Stock Analysis Report
Par Pacific Holdings, Inc. (PARR): Free Stock Analysis Report
Chesapeake Energy Corporation (CHK): Free Stock Analysis Report
Northern Oil and Gas, Inc. (NOG): Free Stock Analysis Report
To read this article on Zacks.com click here.
Zacks Investment Research