U.S. stocks declined Wednesday as investors pore over the latest earnings reports for the third quarter. Subsequently, analysts weighed in on the social media giant Facebook Inc (NASDAQ:FB), banking giant JPMorgan Chase & Co. (NYSE:JPM) and streaming media giant Netflix, Inc. (NASDAQ:NFLX), with mixed ratings.
Facebook Inc
Piper Jaffray analyst Gene Munster was out pounding the table on Facebook Wednesday, reiterating an Overweight rating and price target of $146, which represents a potential upside of 55% from where the stock is currently trading.
Munster noted, "Investors are well aware that Facebook's play into virtual reality (VR) strengthens in Q1 2016 with the expected release of the Oculus Rift virtual reality headset. We see the Rift as a catalyst to FB shares, but also believe there is another major emerging theme around Facebook's exposure to mixed reality (MR). MR (sometimes referred to as augmented reality) blends the physical and digital worlds, and thus has the potential to replace displays as we know them (smartphones and PCs). Our belief that Facebook will evolve to participate in both VR and MR is based on recent key competitive hires along with Mark Zuckerberg's comments at the Vanity Fair New Establishment City Summit last week."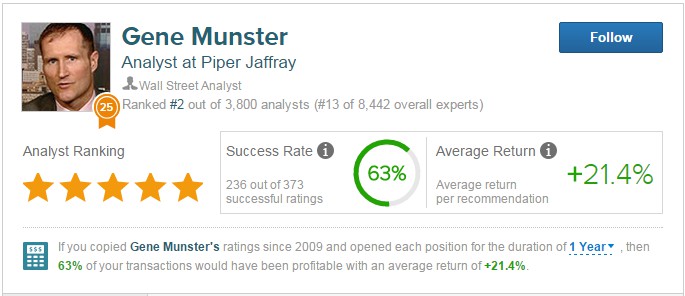 According to TipRanks, which measures analysts' and bloggers' success rate based on how their calls perform, analyst Gene Munster has a total average return of 21.4% and a 63% success rate. Munster has a 38.4% average return when recommending FB, and is ranked #2 out of 3773 analysts.
Out of the 47 analysts polled by TipRanks, 42 rate Facebook Inc. stock a Buy, 4 rate the stock a Hold and 1 recommends Sell. With a return potential of...
More