The crude oil futures curve is resisting a continued parallel shift lower.
Prices can and will change, but we have to respect the worst case scenario even if we do not expect it.
Outside of hedges, upstream MLPs are dependent on the sale of oil and gas for revenue.
Can Vanguard Natural Resources LLC survive low oil prices and what is the upside if prices recover?
An exhaustive analysis is performed under multiple pricing scenarios.
I built a detailed model using primarily public filings to test what kind of revenues and expenses we can expect from post-acquisition Vanguard Natural Resources LLC (NASDAQ:VNR). The firm recently went on a buying spree and will soon incorporate Eagle Rock Energy Partners, L.P. (NASDAQ:EROC) and LRR Energy LP (NYSE:LRE) into its operations. This analysis is material for investors in all three firms since their fates are now intertwined.
There are two key considerations in terms of their impact on VNR:
1) Lower net debt to EBITDA
(click to enlarge)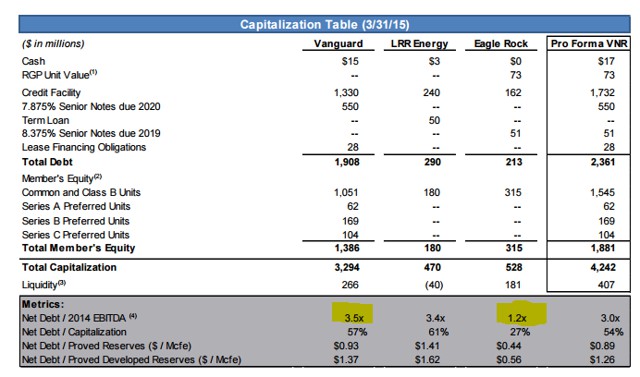 While overall debt increases due to the deal, it is lower in terms of unit of debt per unit of EBITDA.
2) More reserves, greater geographic diversification, and marginally more oil heavy asset portfolio
(click to enlarge)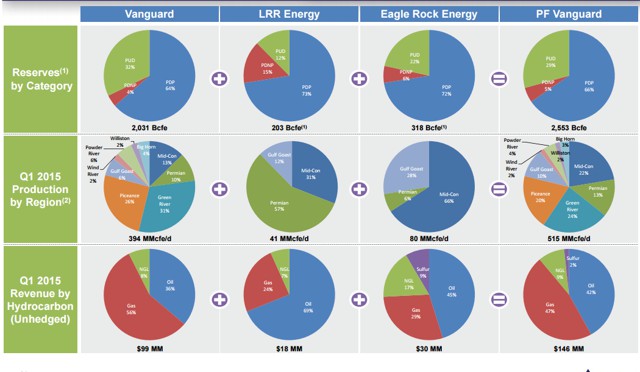 Source: VNR's Investor Presentation
I personally believe oil will be higher than the forward curve for crude oil suggests within 24 months. This chart is aggregated as of the new low oil recently set.
(click to enlarge)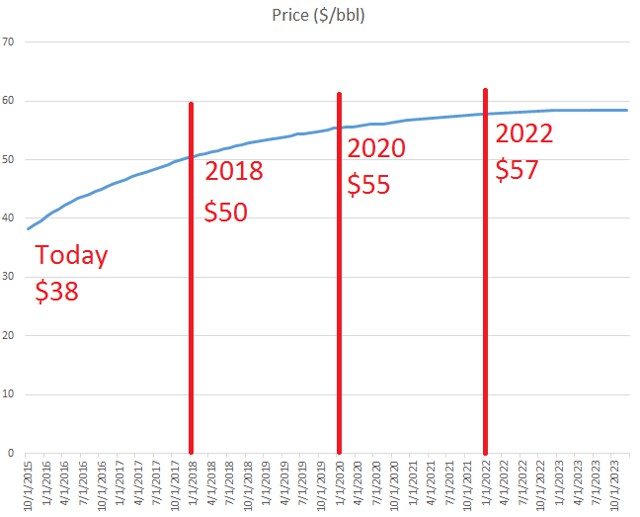 Source: CME for the raw data
We can see from the chart/graphics I created that the forward curve is fairly steep through 2018, then levels off considerably. The $5-6/bbl recovery from the lows has not changed this.
This is an interesting chart on oil prices:
(click to enlarge)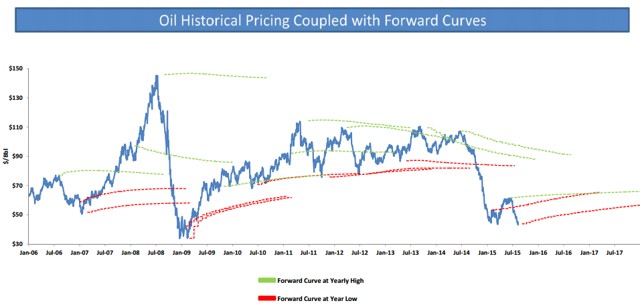 Source: VNR's Investor Presentation
Outside of January 2015, each time oil has sold off sharply in the last 10 years, the forward curve has underestimated the pace of recovery. There are no supply side shocks during this time period, however, which is critical to note. It is more likely that prices will take longer to recover than what the markets experienced during the demand induced oil crashes of the past 20 years.
Despite my personal beliefs concerning global supply and demand for oil in the medium term, as someone who works as an analyst in this area, I know that firms in Exploration and Production ("E&P") generally use the forward curves for oil and natural gas to estimate internal rates of return ("IRR") for projects under consideration. Perhaps more importantly for MLPs, these firms also use the forward curves to lock in hedges. These same firms' lenders also use the forward curves as an important component of determining their borrowing bases and creditworthiness. The futures curve is not an estimate in the standard sense - it is a real-time measure of future spot prices agreed upon today by hedgers and others interested in locking in volumes or production. These prices are certainly subject to change.
We'll use the shape of the futures curve as a base case but shift it up and down to determine how post-acquisition Vanguard Natural Resources LLC is likely to perform. We'll assign the worst case $30/bbl, the default case $50/bbl, and the optimistic $60/bbl. These are the spot prices we'll assume going into 2016.
My objective is to provide valuable information on VNR's potential performance that is flexible to one's personal beliefs concerning future commodity prices.
Round 1 analyzed Legacy Reserves LP (NASDAQ:LGCY) and Round 2 focused on EV Energy Partners (NASDAQ:EVEP).
For Round 3, I listened to the feedback provided by my readers/followers and took a different but much more difficult approach: we'll value Vanguard Natural Resources LLC using a variety of oil prices instead of assuming the forward curve.
This was a considerable undertaking, so I hope it is of value to many readers.
Vanguard Natural Resources LLC
(click to enlarge)(click to enlarge)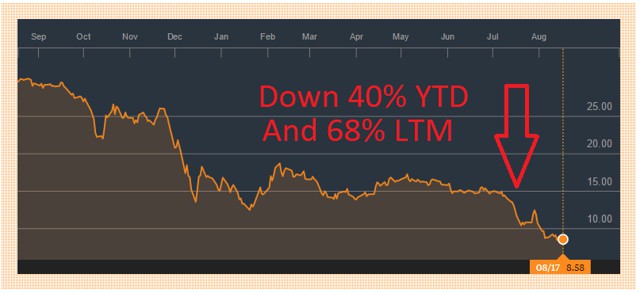 VNR has suffered declines of 40% and 68% year-to-date and over the last twelve months ("LTM") respectively.
Vanguard Natural Resources LLC has traded in line with the stronger MLPs such as Memorial Production Partners LP (NASDAQ:MEMP) while more levered names with poorer cost controls, such as Linn Energy LLC (NASDAQ:LINE) (NASDAQ:LNCO) and BreitBurn Energy Partners L.P. (NASDAQ:BBEP), are down 90% or more in the last year.
The sell-off of the last 30 days has been particularly dramatic as we can see in the below chart.
(click to enlarge)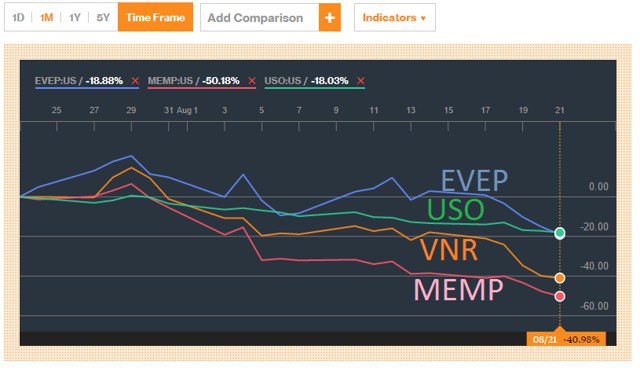 Source: Bloomberg.com
Only EV Energy Partners is trading in line with oil prices. Memorial Production Partners LP, which had held up among the best in the space due much in part to its industry-leading hedge book, has joined the rest of the segment by falling 50% in the last 30 days with VNR down a similar 40%.
(click to enlarge)(click to enlarge)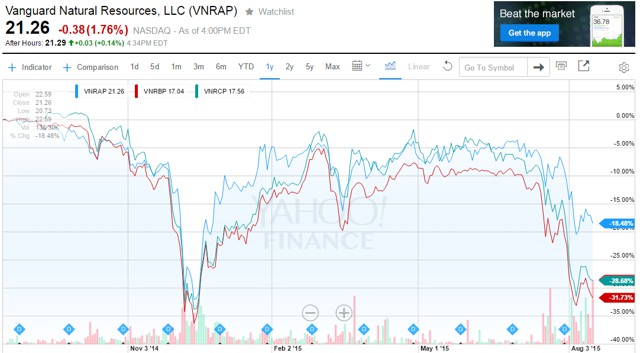 Source: Yahoo! Finance
VNR is unique in that it has preferred shares. All three have experienced relatively high volatility given preferred shares are usually very stable unless insolvency risk becomes material. These shares had rapid 35-40% losses before recovering and then retracing these losses again in recent market action.
Any good analysis of VNR must consider these key items:
High operational efficiency (low costs per unit of hydrocarbon produced)
Higher than average natural gas production relative to many of its liquid heavy peers
Weaker hedging portfolio versus many peers such as Memorial Production Partners, Linn Energy, and BreitBurn Energy Partners.
Recent acquisition activity.
Per the firm's Q2 2015 10-Q, total assets are $2.8 billion, total liabilities are $2.2 billion, market capitalization is $750 million, and the previously reduced distribution of $1.41 annually is a 15.80% yield as of this writing. The current ratio is a healthy 1.4.
I built a comprehensive model using data from two places: 1) Most recent SEC filings from VNR, EROC, and LRE 2) current and future prices of commodities from the Chicago Mercantile Exchange's website cmegroup.com.
First, let's get the most tedious part out of the way and aggregate data to determine what post-acquisition VNR will look like operationally.
(click to enlarge)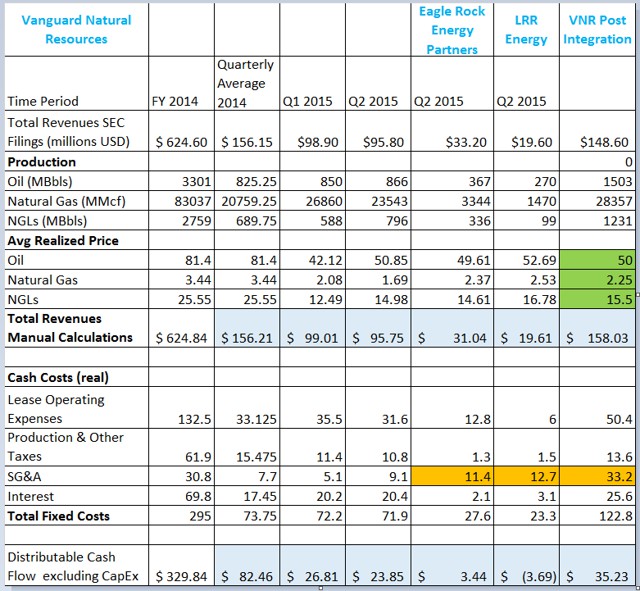 Source: 10-Q's of VNR, EROC, and LRE and 10-K of VNR
Revenue excluding hedges is down considerably from a quarterly average of $156.21 million in 2014 to the mid-90s in Q1 and Q2 of 2015. Costs were barely down but in VNR's defense production did increase over this time period (though mostly through M&A and not organic growth).
There are various adjustments here that were necessary to get numbers that best reflect long-term reality such as backing out gains/losses from commodity contracts and aggregating certain expenses that are reported differently between the firms. My unhedged revenue production figures are very close to those posted by VNR's management in a previous chart in this article so we know the numbers and methodology behind them are accurate.
I highlighted the approximate average costs for the combined firm in green. The cells highlighted yellow are pulled directly from SEC filings but they are nonetheless misleading. LRR and EROC absorbed G&A costs in Q2 associated with their mergers with VNR that do not reflect the long-term trend. Management discloses this but didn't provide specific figures that I could find, so instead I'll be using Q1 2015 G&A numbers for LRR and EROC. EROC's was only marginally lower but LRE's was over 50% below that of Q2, so it is important to make this adjustment.
Besides reduced leverage relative to EBITDA and a marginal benefit to VNR's hedge book, the other main synergy behind the deal was an estimated 20% reduction in overall G&A costs. I am going to use 10% because management across the upstream MLP space (not picking on VNR here) has outright terrible track records in achieving the cost savings and other benefits supposedly associated with M&A activity.
$30/bbl Analysis
Natural gas is trading slightly up over the next few years but initially we'll stick with our somewhat bearish perspective and hold the average realized price of Q2 of approximately $2.25/MCF steady (remember that the negative differentials in many natural gas fields are currently in excess of $1/MCF). Because this is the bearish pricing case, we can reasonably expect material cost savings to continue as weaker players fail and the environment becomes increasingly competitive. Production is held steady since economics on new drilling is generally unfavorable.
SG&A: Immediate 10% reduction and further 10% reductions over the next three quarters. Stable after that.
LOEs: Immediate 10% reduction and further 10% reductions over the next three quarters. Stable after that.
(click to enlarge)
Q4, which begins with $30/bbl WTI and then moves up along the shape of the futures curve, gives us interesting results. The sharp decrease in costs over the first few quarters, which is realistic if crude is this low, significantly offsets the decrease in revenue. The offset, however, is not enough to counter lower commodity prices and DCF hits $22.5 million in Q4 compared to my estimate of $32.63 for Q3 and the $44.5 for Q2. It is not until Q2 2017 before DCF is equal to that of Q2 2015. This differs somewhat from VNR's figures due to nonrecurring events and other factors but VNR and I agree on the critical inputs that make up operating income and DCF.
In the bearish case excluding hedges, VNR still generates cash flow of $148 million in 2016, $180 million in 2017, and $210 million in 2018 excluding CapEx and preferred distributions. Based on historical results, management commentary on the Q2 conference call, and adjusting for the additional operational obligations due to acquisitions, VNR needs to spend a minimum of $165 million a year to offset the natural decline of its oil and gas wells post acquisition. We cannot forget that VNR pays out $6.7 million quarterly in preferred distributions not included in interest costs.
Backing out these expenses puts 2016, 2017, and 2018 DCF at ($44) million,($12) million, and $19 million respectively. To put this into context, Q2's distribution was $31 million or $122 million annualized. This is also excluding the impact of the increase in share count necessary to close the LRE and EROC deals.
VNR continually increases through its unit count due to its at-the-money equity issuance program. A very recent publication as of August 27th shows the share count of VNR at a little over 87 million units.
Including hedges, we get the below results:
(click to enlarge)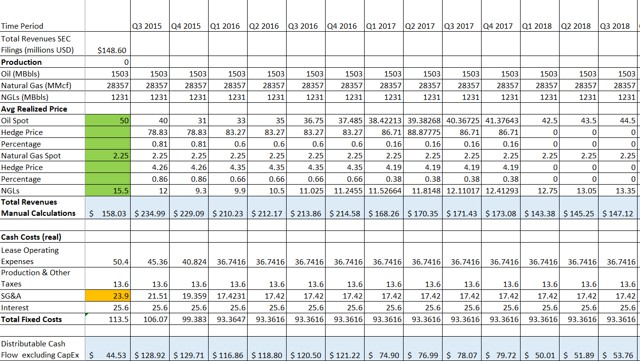 For 2016, Vanguard Natural Resources LLC generates $477 million in cash flow minus the $165 million in maintenance CapEx and $26.8 (I'll often reference an even $27 million going forward) million in preferred distributions for DCF of $285 million. Using the .55 and .185 unit exchange rates, I estimate the unit count to increase from 87 million to 132 million. As a note on the efficiency of the transactions, reserves grew by 35% while equity was diluted by approximately 50%.
The proposed savings due to the acquisition synergies and anticipated industry-wide cost reductions make a dramatic difference versus what the firm experiences today. The above figures result in DCF of $2.15/share for full-year 2016 if no funds are allocated to growth CapEx.
2017 does not have near the hedge book of 2016. Despite increases in oil and NGL prices within the model, cash flows are down to $309 million. After the $27 million in preferred distributions and $165 in maintenance CapEx, DCF becomes $117 million or $0.89 per share. Equity will surely increase over this time period, so this is optimistic.
2018 has $211 million in cash flow minus $165 maintenance CapEx and $27 million in preferred distributions for DCF of $19 million or $0.14 per share. Vanguard would be unable to pay a meaningful distribution and face serious problems, if not insolvency, when debt obligations came due in the coming years.
$50/bbl Analysis
Moving spot prices up to $50 for January 2016 and implementing a parallel shift to the futures curve, updates our model to this:
(click to enlarge)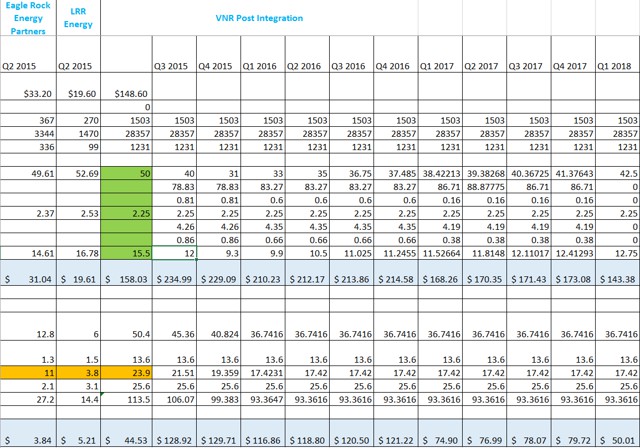 The increase in revenues in the first couple quarters of the analysis are not material since most of production is hedged in 2016. Margins improve considerably relative to the $30/bbl scenario as time goes on.
For 2016, total cash flows are $553 million minus $165 CapEx minus $27 million in preferred distributions for DCF of $361 million or $2.73/share.
2017 comes in at $441-$165-$27 = DCF of $249 or $1.88/share.
2018's DCF is $166 million or $1.26/share.
Equity is likely to increase over this time (considerably if VNR uses its ATM equity machine with anywhere near the regularity as it has in the past) so consider this the best VNR's management can achieve.
In line with our slightly more optimistic crude pricing assumptions, as a test, let's raise natural gas prices up by an average of $0.50/MCF over this time period since VNR is heavily dependent on nat gas pricing.
2016 DCF: $572-$165-$27 = $380 million or $2.88/share
2017 DCF: $476-$165-$27 = $284 million or $2.15/share
2018 DCF: $415-$165-$27 = $223 million or $1.69/share
This is a considerable but not unexpected increase in real cash flows due to what is really a marginal $0.50/MCF increase in realized natural gas prices.
$70/bbl Analysis
(click to enlarge)
2016 DCF: $630-$165-$27 = $438 million or $3.32/share
2017 DCF: $564-$165-$27 = $372 million or $2.82/share
2018 DCF: $502-$165-$27 = $310 million or $2.34/share
The severe cost reductions built into the early parts of the model are likely to continue through 2018 for the $30/bbl analysis, are 50/50 for $50/bbl, and unlikely for the $70/bbl, so I'd reduce those DCF figures by 5-15%.
Conclusion
If we enter 2016 with spot prices around $30/bbl, assuming the gently upward sloping shape of the current futures curve, VNR is in trouble even with large (30%+) additional decreases in costs (that may or may not materialize) experienced quickly and sustained throughout 2018.
Assuming $50/bbl, investors could receive up to $6.72 in fully covered distributions from 2016 through 2018. Distributions trend downwards as hedges fall off but that represents an average fair value equity price of $18.67/share using a 12% required rate of return. Perhaps more importantly, using 2018's DCF that receives no benefit from hedges results in a fair price of $10.50/share. If one thinks prices are to stabilize around $50/bbl by Q1 2016 and slowly increase over time, VNR is a strong buy under $10.50. Slightly more bullish expectations regarding natural gas prices make it a strong value under $12/share even under the pessimistic conditions of 2018's revenues.
$70/bbl as the starting spot price going into 2016 results in investors receiving up to $8.48 in fully covered distributions for an average fair value of $23.56/share using a 12% required rate of return. Using 2018's metrics but discounting DCF by 10% for a realistic partial recovery in oil service costs results in a fair value of $17.55/share or $19/share with a $0.50/MCF sustained average increase in natural gas prices.
Additional disclosure: The author may enter into long or short positions in any part of the capital structure of any of the firms mentioned in this article. Readers should always conduct their own independent due diligence and not rely upon information or opinions provided by the author.
The current futures curve for crude oil has oil at or below $60/bbl WTI for at least another 3.5 years.
After determining Legacy Reserves is not all that well positioned in Round 1, we move on to EV Energy Partners.
Natural gas is a greater contributor to EVEP's revenues than many other MLPs.
Careful analysis tells is if EVEP can survive a prolonged downturn in commodity prices and what kind of investors might be interested in the name.
Round 1 analyzed Legacy Reserves LP (NASDAQ:LGCY) and the conclusion was while the firm has a few things going for it, it is not one I'd choose to invest in if I thought the current futures curve was going to hold.
(click to enlarge)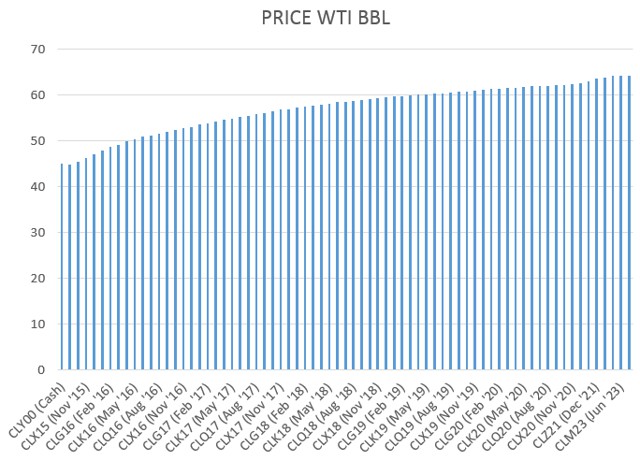 This chart is assembled from data provided by the CME. Even the June 2023 contract is barely trading above $60/bbl. Can any upstream survive this kind of environment, and if so, what kind of returns might investors experience? We'll focus on three areas:
Balance Sheet, Operating Performance, and Hedges and Distribution Coverage.
EVEP recently became a pure play upstream MLP due to the sale of its midstream assets to Williams Company (NYSE:WPZ). Its main operations are in the Barnett Shale and Austin Chalk, both in Texas, the San Juan Basin of New Mexico, and Utica Shale of Pennsylvania.
The firm has a relationship with EnerVest which is the controlling member of the firm's general partner. EnerVest generally focuses on oil and gas investments with a timeline of 3-5 years while EVEP functions in the more traditional MLP style of managing long-term assets.
For those who have not already, I strongly recommend reading or listening to EVEP's latest conference call. The Chairman's commentary on the current environment was interesting.
Sources: All financial data is pulled from EVEP's latest 10-Q unless otherwise stated.
The firm has total liabilities of $650 million, total assets of $1.7 billion, and a market cap of $450 million. Debt maturities have been extended to February 2020. On June 10, 2015, EVEP closed on the sale of its interest in UEO for $572.2 million which was used to repay debt under its revolving credit facility. This reduced leverage considerably and was a plus for the balance sheet and debt holders. The downside is that the firm sold one of its better assets and lost some distributable cash flow in the process. Its borrowing base was reduced to $500 million though nothing was drawn from it as of end of Q2. The $59 million in cash brings total liquidity to $559 million. Of the upstream firms I've looked at closely, which is the vast majority, EVEP now has one of the better balance sheets and liquidity positions.
Operating Performance
Drilling and completion costs were down 15% compared to the initial budget in Q1. Lease operating costs are targeted to decrease 10% from end of year 2014 compared to the end of 2015. Year over year reductions in G&A costs were 38%. Backing out the asset impairment of $48 million, year over year total operating costs and expenses were down from $71 million in Q2 2014 to $60 million in Q2 of this year. Q1's results, also backing out the asset impairment, came in the middle of this range at $65 million. Net cash flows from operating activities were up year over year from $63 million to $73 million. Total revenues decreased from $89 million to $44 million year over year.
(click to enlarge)
G&A is a little weak but otherwise EVEP is among the best operators in the sector on a cost efficiency basis. Only Vanguard Natural Resources (NASDAQ:VNR) is consistently superior and with the recent changes in cost structures across the board this data is likely to have changed.
On the production front, it has been very stable recently at approximately 250,000 bbls of oil, 570,000 Mbls of NGLs, and 10,000 MMcf of natural gas. Q2's realized prices were $52.84 and $15.09 per barrel for oil and NGLs respectively with natural gas coming in at a fairly low $2.27/MCF. EVEP (annoyingly) does not break out revenue per hydrocarbon but we can do that ourselves.
(click to enlarge)

Source: EVEP's lastest 10-Q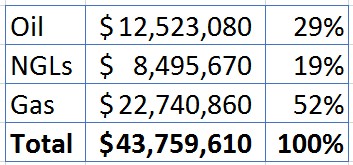 We know our numbers are right because if we add back in the $734k in transportation and marketing-related revenues we at the total revenues of $44.5 million. EVEP, like Vanguard Natural Resources , is different than many other MLPs in that it truly receives most of its revenue from natural gas. Moderately higher oil prices would change that and put oil and NGLs back to the majority. Going back to the model I created, a $5/bbl reduction in oil prices results in oil revenue declining to $11,338,080 and NGLs, which were priced at 28.6% of crude in Q2, moving lower to $7,676,167 resulting in revenue from oil and gas of $41,755,107. Another $5/bbl reduction lowers revenue further to $39,767,832 which is likely closer to what the firm is experiencing today.
Let's take a look at the costs the firm needs to cover with that revenue. Q1 and Q2 2015 cash expenses totaled $40 million and $35 million respectively. The cost reduction measures are showing up in operating results. We have not, however, considered interest expense of $13 million which is up slightly compared to Q1. Even with the same momentum in cost reductions, the firm is going to see at least $81 million in expenses for the second half of 2015. Revenues for Q3 are going to be in the $38-42 million range and inputting the current futures curves into my model Q4's revenue will be between $42-44 million. If EVEP manages to cover cash operating and interest expenses for the second half of 2015, it will not be by much. We have not even considered the added burden of the distribution.
Hedges and Distribution Coverage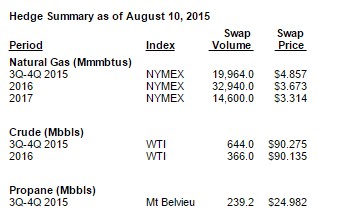 Source: EVEP Press Release and in thousands
I've noticed less well hedged firms tend to provide the least visually appealing and understandable data on the subject. These figures are as of just a week or so ago. 2015 does not look too bad but let's see what the firm has for 2016 on the oil side. 366,000 bbls is 38.6% of Q2 production annualized. NGLs are not hedged enough to make a material difference. Natural gas hedges beyond 2015 are not far enough from spot to make a material difference. Incorporating the hedges and futures prices into the model and assuming NGLs trade back toward their normal 35% of crude instead of 28%, 2016's realized oil price will be $62/bbl and total revenue comes in at $55 million. This represents a best case scenario of $28-33 million per quarter in excess cash flow it can use to make distributions, fund additional capex, or pay down debt. This is about $0.60 per share versus the existing distribution of $0.50 per share.
Conclusion: Can EVEP withstand the current environment through 2019?
From 2017 on and using the corresponding futures prices, it is very hard to come up with a situation where EVEP has meaningful (enough to support more than 50% of its current distribution rate) cash flow above what it needs to operate its business and pay expenses related to debt. Thus the answer is No. Unlike some more over levered MLPs, I do not think the firm is going to face insolvency risk any time soon. EVEP's saving grace could be higher natural gas prices. A $1 improvement in realized natural gas prices increases total quarterly revenue by $10 million. In addition, LNG exports could help the firm significantly in 2016 and beyond. For those with a high risk tolerance, bullish on natural gas prices, and confident in EVEP's ability to keep hammering costs downward, it could be a good long-term investment to consider.
Additional disclosure: The author may enter into long or short positions in any part of the capital structure of any of the firms mentioned in this article. Readers should always conduct their own independent due diligence and not rely upon information or opinions provided by the author.
More