We love watching them and we love sharing them, but Giphy hopes its new app will get us making them too.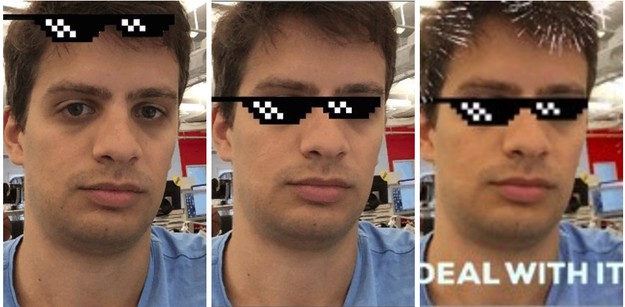 BuzzFeed
Some things are hard to express in words, says Adam Leibsohn, Giphy's chief operating officer. "Language is really bad at abstract terms — love, confusion, passion, freedom, curiousity — all that stuff."
The solution, of course, is GIFs. "You can send a GIF way faster than you can write all the things you have to say," Leibsohn told BuzzFeed News, explaining the origins of his fledgling business. "They're more expressive and more dynamic than an emoji and you get your point across more quickly because the person across from you just sees it. I was, like, holy shit, this could be the future of language."
Giphy is now best known as a search engine for GIFs, pushing billions of them every month into messaging apps like Facebook Messenger and Slack. The site now pulls in over 55 million unique visitors each month, and earlier this year, the New York-based company raised $15 million at a reported valuation of $80 million.
It's still a small company, but is gradually expanding into what it hopes will become an all-purpose GIF-based media empire. It now partners with media companies to turn their video content into GIFs for distribution across the web, including campaigns with Straight Outta Compton and Game of Thrones. It also connects artists with brands like Subway to create original work that then live on its platform. And today, the company is releasing its first app, which lets anyone with a smartphone become the star of their own GIFs.
"There's a search engine, there's social integration, there are artists and original content, there's working with partners and original content, there's building tools and building technology, and as we followed that out, we built a media company around that content," Leibsohn said. "It's pretty cool we were able to build that around the GIF and have a media company that's focused around this evolution of language for the digital world."
Despite the millions of people who use the GIFs to message their friends, project their moods or, ahem, create content for the digital news and entertainment site that employs them, making original GIFs can still be a tricky process. Hence the latest expansion of the Giphy empire.
Today the company is releasing GIPHY CAM, an iOS app for making GIFs with footage recorded on smartphone cameras. The app, along with desktop tools to create GIFs from videos, is part of the company's overall work, Leibsohn said, of "making sure everyone can quickly find & easily create awesome GIFs and seamlessly share them anywhere."
As for making money — the app, like all of its services for normal users, is free — the company is taking a pretty relaxed approach to profits. "After we're certain everyone on the planet is having fun thanks to Giphy," he said, "we'll move on to thinking about making money."
---