We had a front contract switch, but...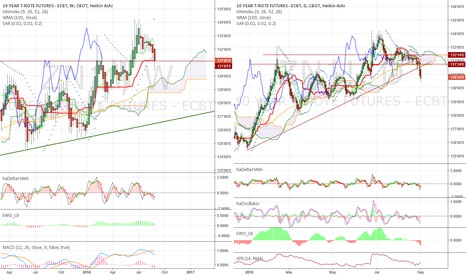 ... but I think it still looks bearish .

Weekly (back to neutral, with some bearish bias):
- This week's close will be extremely important. Kijun Sen is 131'05. If markets closes below with the new December contract (ZNZ6), then we can expect further drop towards 129+ support.
- MACD already had a bearish cross before the Sept/Dec front contract change.
- EWO is still bullish
- Ichimoku setup itself looks rather neutral now.

Daily:
- Ichimoku setup is bearish .
- We have a lower low even if we consider the U/Z contract change.
- If market gets choppy at NFP number tomorrow, we may see a spike to 131'15+, but as you see, Ichimoku marks 131'24-132'15 as bearish support now.
- All average lines (including future Kumo cloud) point down.
- Heikin-Ashi signal is bearish , haOscillator is well below zero.
- EWO is bearish .

So right now it all looks rather bearish , but obviously on back of a weak NFP number, market would rally back towards 131'15-131'24 in ZNZ6.

My advise is: do not chase it here. Do not short now. Too bad risk/reward. If you have a short from higher levels like I do, keep it and trail your stops according to ou money management rules! If market spikes back to daily bearish support zone (Kumo), then look for next sell signal.