You know what costs less than a gallon of gas this holiday weekend? Starting your subscription to Benzinga Pro's news feed and data platform.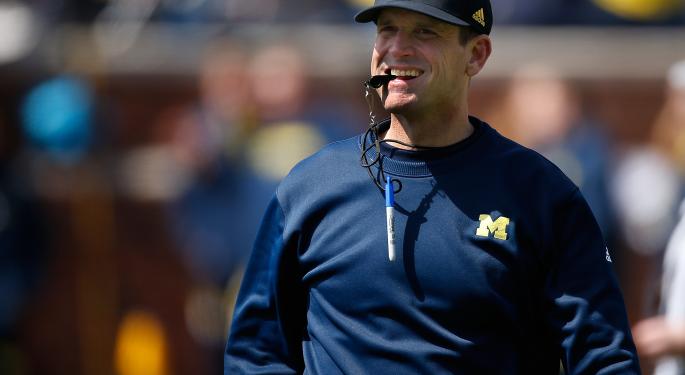 Joel Elconin is the co-host of Benzinga's #PreMarket Prep, a daily trading idea radio show. He is also a 1983 graduate of the University of Michigan and a multi-generational season-ticket holder.
It is fact that the University of Michigan football team is the all-time NCAA leader with 915 wins, a 72.9 win percentage (third-best of all time). Whether or not that makes the Wolverines the greatest program is a subject of great debate.
Although the program has amassed 11 national titles, 42 conference titles, three Heisman trophy winners, numerous All-Americans, produced some of the greatest players in NFL history, and even a United States President, many haters are waiting for their wildest dream to come true: the demise of Michigan football.
Downward Spiral
Over the last nine years -- since the death of Bo Schembechler, the day prior to UM's loss in the 2006 No. 1 (Ohio State) vs. No. 2 (Michigan) battle in Columbus, Ohio -- the program has been in a downward spiral.
In the 2007 season opener, the team suffered what many consider the greatest upset in the history of sports, when Michigan lost to a Division 2...
More