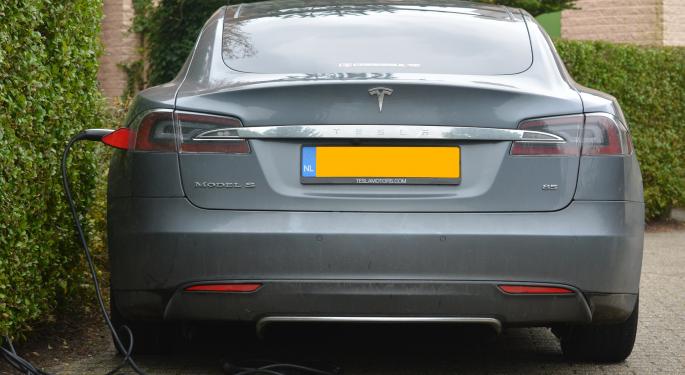 The Elon Musk trade is deeply in the red on Thursday after a SpaceX rocket exploded on the launch pad at Cape Canaveral. While neither Tesla Motors Inc (NASDAQ: TSLA) nor SolarCity Corp (NASDAQ: SCTY) have a formal business relationship with SpaceX, shares of the two stocks are down 4.3 and 7.8 percent, respectively.
A large part of Tesla's premium market valuation due to the company's reputation for delivering quality products. Some investors may see the SpaceX incident as a troubling sign that Musk's products may not be as reliable as they seem.
Other traders are likely concerned that the SpaceX explosion will be a distraction for Musk during a critical time for Tesla and SolarCity.
Cash Issues
On Wednesday, the Wall Street Journal reported that Musk is currently dealing with a cash issues at both Tesla and SolarCity.
Related Link: Owning Tesla Requires Stamina Because The Company Is 'Sucking Oxygen' From The Traditional Players
SolarCity is facing a liquidity squeeze after 15 institutional investors passed on the opportunity to invest in the company in recent weeks. In the most recent $124 million SolarCity bond issue, Musk and his cousins, CEO Lyndon Rive and Pete Rive, together purchased 80 percent of the bonds. While musk described the move as a "show of faith," others may see it as a lack of outside investment enthusiasm.
Tesla's debt-to-equity ratio is already a bloated 145.5 percent. This week, Tesla said it plans to issue up to 15 million shares of stock to help pay for its SolarCity buyout. Despite booking nearly $400 million in Model 3 preorder deposits this year, Tesla raised $1.7 billion in a Q2 equity offering and has another offering planned by the end of the year.
Since late 2014, Tesla has burned through more than $3 billion in cash.
Now What?
Perhaps the SpaceX explosion was the tipping point for investors who believe that Musk's aggressive spending and ambitious goals are too much for him to handle. In the past year, Tesla shares are down 18.5 percent and SolarCity shares have fallen 60.4 percent.
© 2016 Benzinga.com. Benzinga does not provide investment advice. All rights reserved.