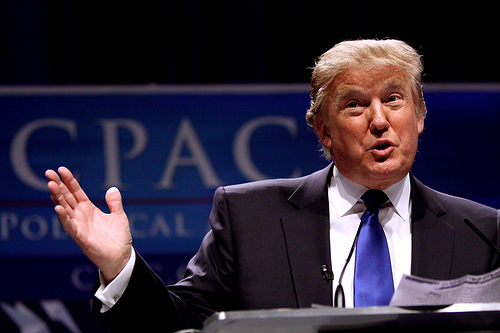 Donald Trump is calling out some well-known names in the technology world when it comes to immigration, including Mark Zuckerberg.
Trump is arguing, among many other things, that there are enough STEM (science, technology, economics, mathematics) graduates in the United States to fill all jobs at big technology companies, like Zuckerberg's Facebook (NASDAQ: FB), according to CNN Money. Trump is calling for any foreign workers with a H-1B worker's visa to be paid more, in order to deter employers from hiring foreign workers.
"This will improve the number of black, Hispanic and female workers in Silicon Valley who have been passed over in favor of the H-1B program. Mark Zuckerberg's personal Senator, Marco Rubio, has a bill to triple H-1Bs that would decimate women and minorities," Trump wrote, according to CNN Money.
Zuckerberg, on the other hand, is calling for immigration reform as well, but on entirely different terms. He is calling for looser restrictions on H-1B visas to technology companies
Further, Zuckerberg founded a public interest group, Fwd.us, which fights for immigration and lobbying reform, according to CNN Money.
Bill Gates of Microsoft (NASDAQ: MSFT) and Marissa Meyer of Yahoo (NASDAQ: YHOO) have both also come out in favor of Zuckerberg's take on the issue and are on board with the public interest group, according to CNN Money.
"We begin with a basic premise: every person should have the chance to contribute to our economy and society," the website reads. "It doesn't matter where a person comes from or who his or her parents are: creativity, talent, and the willingness to work hard are what count. These values are fundamental to the tech community because human ability provides the foundation for everything we do. We know that denying opportunity to some diminishes prosperity for everyone."
For more business and financial news, click here.
*This is editorial content and expresses the opinion of the reader.