Gold has been rallying in 2015 from roughly 1168 to 1307. After that price started to consolidate. Eventually, after last week's hawkish FOMC statement, it formed a price top. Price action this week looks poised to confirm that price top and signal at least a short-term bearish outlook.

Gold (XAU/USD) 4H Chart 2/5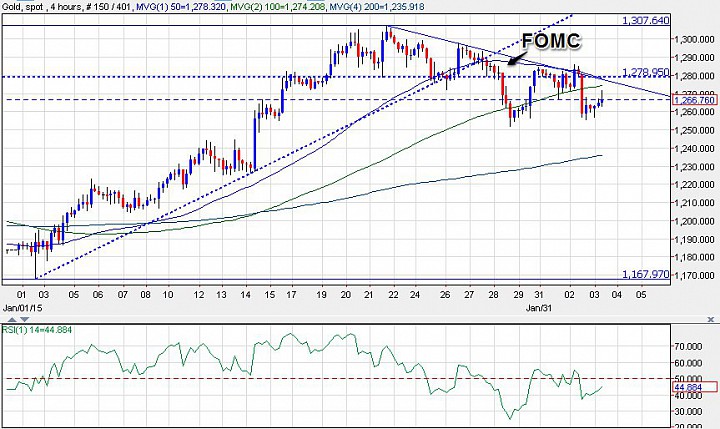 (click to enlarge)
after almost tagging 1250, gold did pull back to about 1285. There is hung out for a couple of sessions, until retreating during the 2/3 session. As we start the 2/4 US session, price has been tentative, but still looks bearish. 
The 1230-1240 area could provide some short-term support ahead of Friday's NFP. However, if there is a rebound, look for resistance around the 1275-1280 area ahead of the NFP.
The NFP report is a highly anticipated economic release and does have the potential to add volatility to the markets, in which case these intra-week pivots might be destroyed without any real indication of direction. 
the main level to look for after the NFP is probably the 1200 handle. A break below revives 2014's bearish trend, while a hold above would continue a correction that started in Nov. 2014. 
to the upside, returning above 1285 would be a sign of stronger bullish correction with the 1320, then 1345 resistance pivots in sight.