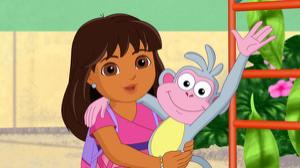 NEW YORK--(BUSINESS WIRE)--
Nickelodeon's Dora will reunite with some of her old amigos including Boots and Backpack in three specials for Dora and Friends: Into the City! These episodes follow the beloved Latina explorer as she travels back to the rainforest for magical adventures with fan-favorites characters--Boots, Backpack, Tico, Benny, Isa and Swiper--and her new friends from Playa Verde. The first special, "Return to the Rainforest," premieres Friday, Sept. 18, at 12:30 p.m. (ET/PT) on Nickelodeon with the remaining episodes rolling out later this year.
This Smart News Release features multimedia. View the full release here: http://www.businesswire.com/news/home/20150908006349/en/
In "Return to the Rainforest," Dora's city friends...
More