Let me clear up the title:
Engulfer - Engulfing candle
S20 - stochastic at 20
R40 - RSI at 40
The S20-R40 is a combination I like to observe when there is a prevailing uptrend. It is in no way a sure-fire way to pick up a buy after retracement, but I like the chances.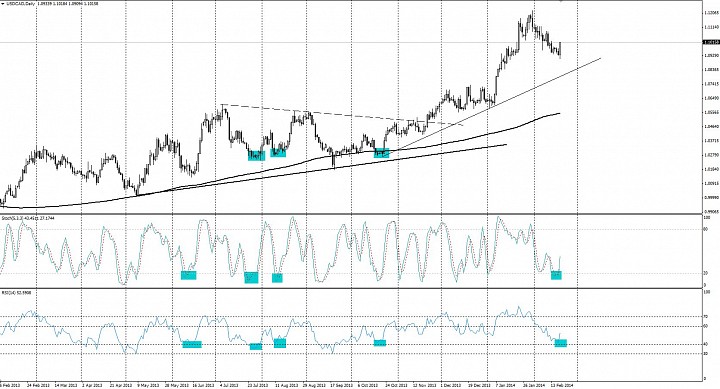 (USD/CAD daily chart showing some S20-R40 combinations: click to enlarge)
Looking at USD/CAD, there is also a strong bullish engulfing candle developing today as we get into the US part of the 2/19 session. This reinforces the bullish idea of the S20-R40 combination.
An intra-session dip might be a nice place to pick this up.
Wholesale Sales for Dec (m/m):
Also, wholesale sales for December 2013 fell -1.4%, which was the worst since June 2013. This time though, there is an excuse - severe winter weather. We now know January and February weather has been inclement as well, so any uptick or stabilizing in the next release of wholesale sales should be seen as very positive.