Shares of Walmart have been bullish since late 2015, rallying from a low of 56.30 to a high of 80.47 in June 2017. Since that 2017 high, price has been in consolidation then bearish correction. It fell sharply again during the Monday (7/10) session, signaling further bearish correction. Let's take a look at this development on the chart.

Walmart (WMT) Daily Chart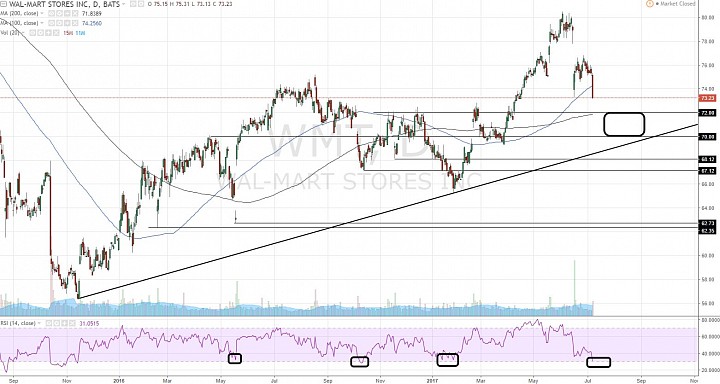 (click to enlarge)

Stalking the Bearish Correction:
- As the current bearish correction materializes, there are some key levels to monitor for support.
- First, just above the 72 handle, there are some common resistance that could turn into support if WMT is bullish in the long-term.
- But even below 72, price should find support around 70, a psychological level. Around 70, we can also see a support/resistance pivot and a rising trendline.
- Meanwhile, the RSI is approaching 30, since late 2015, price has rallied after the RSI has turned up from either below 30 or around 30.
- The rally in October 2016 did not continue the uptrend, but the one in February 2017 did.
- It might be prudent to wait until see the RSI dip to or below 30 a couple of times before anticipating a return to the bullish mode.
- The bottom line here is that the current bearish trend could just be for the short-term, within the context of a long-term bullish trend that is still developing. So, it will be worth stalking the current bearish correction with the "buy-on-a-dip" concept.