Cisco Systems Inc. CSCO won a temporary victory in a long-running patent infringement case at International Trade Commission (ITC) against its close rival Arista Networks ANET.

Notably, Cisco filed the complaint ("945 investigation") with ITC in late 2014 alleging Arista of infringing six patents. On May 5, 2017, ITC issued a "limited exclusion order" and "cease and desist" order after it found that Arista's Ethernet switching products violated two patents ("577" and "668").

As per a recent 8K filing by Arista – following disapproval by the United States Trade Representative of ITC's Final Determination in the case – it is now barred from importing and selling the aforesaid Ethernet switching products in the U.S.

However, the victory may be short-lived for Cisco. According to the 8K filing, the Patent Trial and Appeal Board (PTAB) has issued final written decisions invalidating all claims related to the above mentioned patents, which Arista was found infringing by ITC.

Arista has filed emergency motions with the ITC seeking suspension of its orders pending completion of any appeals of the PTAB decisions. Although Cisco has filed objections, Arista's motion has received support from the Office of Unfair Importation Investigations (OUII), a neutral third party representing the interests of the public in ITC investigations.
Arista Networks, Inc. Revenue (TTM)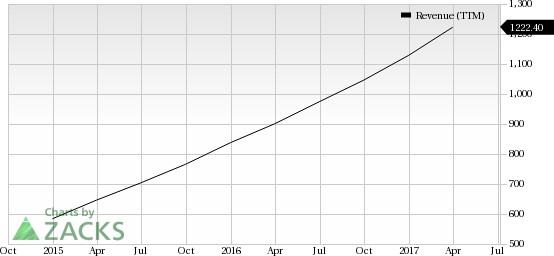 Arista Networks, Inc. Revenue (TTM) | Arista Networks, Inc. Quote
Cisco – Arista Feud Turns Nasty Due to Competition

We note that Cisco has significantly underperformed Arista on a year-to-date basis. While the networking giant gained 3%, Arista returned 53.6%.
Cisco's underperformance reflects the impact of stiff competition it is facing from not only smaller players like Arista and Huawei but also from Facebook's FB Open Compute Project (OCP).

Hence, the lawsuits have significant importance for Cisco, as it looks to regain market share, particularly in the data center networking solutions market. A ban on Arista products surely gives a competitive edge to Cisco.

The ban on import not only hurts Arista's gross margins (domestic manufacturing costs higher) but also increases lead times to customers due to redesigning of products.

Robust Portfolio: Edge for Arista

We note that Arista has become a strong challenger to Cisco's dominant position within a short span of time owing to robust portfolio of switches and routers, ably supported by the Extensible Operating System (EOS).

EOS's fully programmable and highly modular architecture has been the key differentiator, in our view. Moreover, Arista targets the high-end data centers that require fast throughput at low cost. Its high-end applications are typically for the cloud data centers, which have better growth prospects as compared with the enterprise data centers.

Meanwhile, apart from intensifying competition, ongoing transition to subscription-based model will continue to hurt Cisco's top-line growth at least in the near term. The company recently provided an uninspiring long-term outlook (3–5 years) primarily due to these trends.

Zacks Rank & Key Pick

Cisco has a Zacks Rank #4 (Sell), while Arista carries a Zacks Rank #2 (Buy). However, TESSCO Technologies TESS that sports a Zacks Rank #1 (Strong Buy) is a top-ranked stock worth watching in the broader sector. You can see the complete list of today's Zacks #1 Rank stocks here.

Long-term EPS growth for TESSCO is currently pegged at 10%.
Today's Stocks from Zacks' Hottest Strategies
It's hard to believe, even for us at Zacks. But while the market gained +18.8% from 2016 - Q1 2017, our top stock-picking screens have returned +157.0%, +128.0%, +97.8%, +94.7%, and +90.2% respectively.
And this outperformance has not just been a recent phenomenon. Over the years it has been remarkably consistent. From 2000 - Q1 2017, the composite yearly average gain for these strategies has beaten the market more than 11X over. Maybe even more remarkable is the fact that we're willing to share their latest stocks with you without cost or obligation. See Them Free>>
Want the latest recommendations from Zacks Investment Research? Today, you can download 7 Best Stocks for the Next 30 Days.
Click to get this free report
Cisco Systems, Inc. (CSCO): Free Stock Analysis Report
Facebook, Inc. (FB): Free Stock Analysis Report
TESSCO Technologies Incorporated (TESS): Free Stock Analysis Report
Arista Networks, Inc. (ANET): Free Stock Analysis Report
To read this article on Zacks.com click here.
Zacks Investment Research