Electric vehicles (EVs) are rapidly growing in popularity. The transition away from gasoline-fueled vehicles to electrically powered ones promises to be a massive and long-term trend.
There are numerous potential ways to profit from this trend, but one of the best is to invest in the world's largest lithium producer Albemarle Corp . (NYSE: ALB) . Lithium is essential in making the lithium-ion batteries that are currently the battery type of choice for EVs and look to remain so for some time, though there are entities working on competing battery technologies.
Here's what you should know: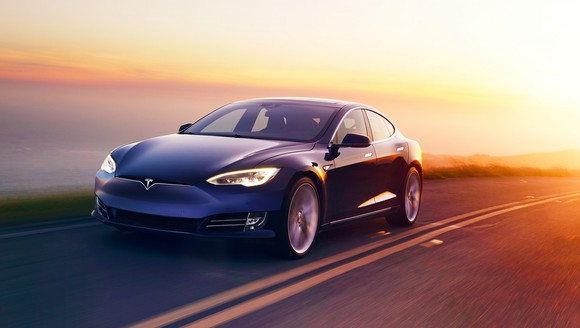 The powerful electric-vehicle trend
The EV revolution is still in the early innings, but the speed at which the disruption of the traditional auto world is happening is impressive, as the chart below shows.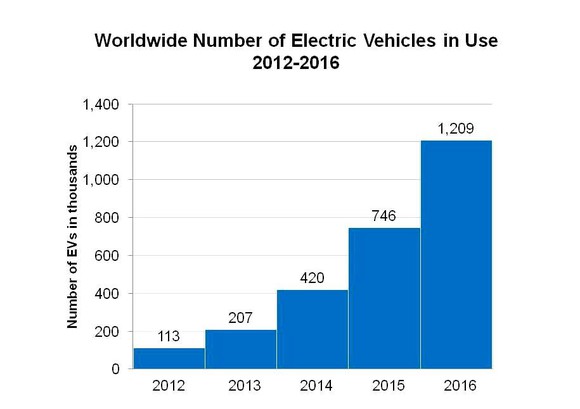 Data source: Statista. Numbers vary based upon source, with Statista's numbers on the low side. Some sources show there were as many as 2 million EVs in use in 2016.
The EV revolution is on the cusp of greatly accelerating, thanks to electric-car maker Tesla, Inc. (NASDAQ: TSLA) and General Motors (NYSE: GM) . In late 2016, GM launched its Chevy Bolt, which is the first long-range, all-electric vehicle for the mass market. (Long range is widely defined as getting at least 200 miles per full charge.) The Bolt has a starting price of $37,500 before incentives and has a range of 238 miles per charge.
Tesla is slated to begin delivering its more affordable Model 3 -- which achieves 215 miles per charge -- in July. Initial demand proved stronger than management expected, which prompted the company to accelerate its 500,000-total-vehicles-per-year production target from 2020 to 2018. This goal represents an approximate five-fold increase in one year, as Tesla expects to deliver 47,000 to 50,000 total vehicles in the first half of 2017.
We don't know how many folks currently have a reservation for the $35,000 sedan, but the company confirmed in an SEC filing for a secondary stock offering last May 15 that it held deposits for 373,000 vehicles at that time, which was a month and a half after the Model 3 unveil.
The Model 3's planned launch was the catalyst behind Tesla decision several years ago to build its Gigafactory 1. The humongous Nevada battery factory, a joint venture with Panasonic, will produce the battery packs for...
More