Last month, in "'No Recovery For You!' Brazil Officially Enters Recession, Goldman Calls Numbers 'Disquieting'", we outlined Brazil's July fiscal performance and came away believing that the country had little chance of hitting its primary fiscal surplus targets. Here's what we said: 
The latest on the political front is that President Dilma Rousseff has 15 days to explain to the the Federal Accounts Court why everyone seems to think that she intentionally delayed nearly $12 billion in social payments last year in an effort to make the books look better than they actually were. And while we won't endeavor to weigh in one way or another on that issue, what we would say is that if someone in Brazil is doctoring this year's books, they aren't doing a very good job because things just seem to keep going from bad to worse. Case in point, on Friday, Brazil said its primary budget deficit was R10 billion in July, far wider than expected. The takeaway: "no primary surplus for you!"
Just three days later, Brazil officially threw in the towel on the primarily surplus projection for 2016 only to reverse course a few weeks later when embattled Finance Minister Joaquim Levy promised to enact some BRL26 billion in primary spending cuts for the 2016 budget on the way to achieving in a primary surplus that amounts to 0.7% of GDP. 
Of course implementing austerity in the current fractious political environment is going to be well nigh impossible which means any and all upbeat assessments of the outlook for the country's fiscal situation should be looked upon with an appropriate degree of skepticism. Add in the abysmal outlook for commodities and you have a recipe for perpetual twin deficits on the current and fiscal accounts, a situation which portends more BRL weakness to come. 
On Wednesday, we got the latest bit of bad Brazilian budget news as we learned that the fiscal deficit widened to 9.2% of GDP in August. Here's Goldman with the rundown:
The consolidated public sector posted a R$7.3bn deficit in August, driven chiefly by the weak performance of the central government. The central government posted a R$6.9bn deficit in August and the states and municipalities added another R$0.2bn deficit. Finally, the state-owned enterprises added another R$0.2n to the overall deficit.

 

The central government continues to struggle and so far, beyond the severe cuts in investment spending and higher taxes, there has been no tangible progress in the much needed fiscal consolidation. 

 

The overall public sector fiscal deficit (primary surplus minus interest payments) widened to a very large 9.2% of GDP, from 6.2% of GDP in the 12 months through December 2014. The net interest bill is running at 8.45% of GDP in the 12 months through August.

 

 

Given the 6.7% USD/BRL move during August, the stock of Dollar-swaps issued by the central bank added R$17.2bn to the overall public sector net interest bill (the difference between the DI rate and the exchange rate variation plus the "cupom cambial"). Overall,the cumulative losses over the past 12-months with the Dollar swaps reached a very high R$112bn (2.0% of GDP). Hence, the 12-month trailing implicit interest rate on total net public debt is tracking at a very high 29.3%, up from 19.3% in December.

 

Gross general government debt worsened to 65.3% of GDP, up from 58.9% of GDP at end 2014 and 53.3% of GDP in 2013.The twin combined fiscal and current account deficits now exceed a disquieting 13.5% of GDP.

 

Overall, we have yet to detect a visible turnaround in the fiscal picture. The overall fiscal deficit is tracking at a disquieting 9.2% of GDP, driven in part by the surging net interest bill, which was exacerbated by the large losses on the central bank stock of Dollar-swaps. We expect the gradual fiscal consolidation process to last at least 3-4 years, perhaps longer.
The particularly amusing thing here is that the situation is apparently so bad that Goldman was able to recycle last month's fiscal deficit report and just update the numbers. While regurgitating old research isn't out of the ordinary, it says something about how precarious things are when adjectives like "disquieting" are getting thrown around month after month after month in regards to the very same data point.
Additionally, Wednesday provided the market with a fresh read on business confidence and given the carnage in consumer confidence that helped to send the BRL into a veritable deathsprial late last week...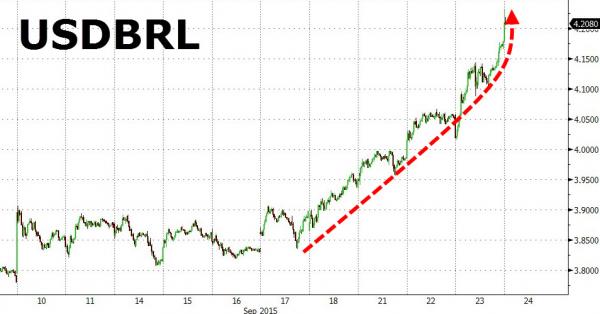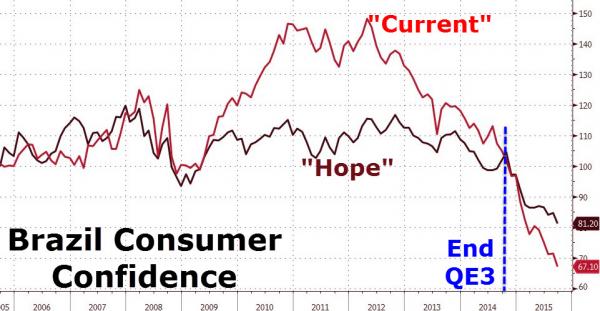 ...it shouldn't exactly come as surprise that business confidence slumped by 8.4% M/M in September, hitting a new record low.
As Goldman notes, "all main five confidence indicators have recorded significant declines in September with all indices reaching new historical lows: consumer confidence (-5.3% mom sa, -26% yoy, new record low), industry (-2.9% mom sa; -18% yoy, record low), construction (-6.5% mom sa, -35% yoy; record low), services (-8.4% mom sa, -32% yoy, record low), retail/commerce (-4.1% mom sa, -24% yoy, record low)."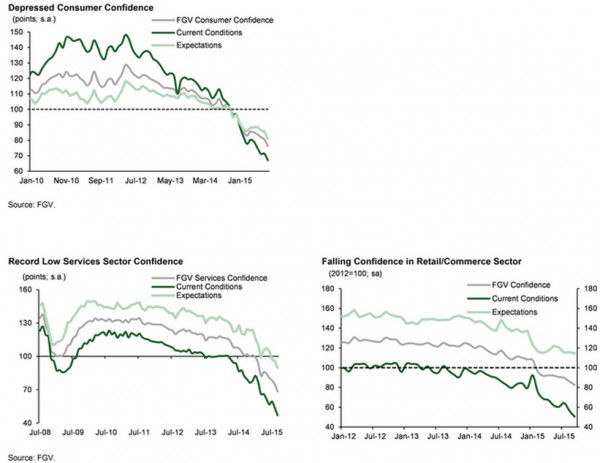 Here's the latest rundown of important political news (because remember, idiosyncratic, domestic political factors are key when it comes to understanding how individual EMs such as Brazil, Turkey, Russia, and Malaysia are positioned to respond to exogenous shocks) via Bloomberg: 
Rousseff signed electoral reform bill into law yday, vetoing rule that allowed companies to make campaign contributions

After a disagreement with Calheiros on whether or not to vote on veto regarding change in election laws in joint Congress session today, Cunha called a separate session at the same time

Govt betting on Senate to uphold vetoes; administration has about 260 votes in Lower House, needs 257: Valor Economico

PMDB lawmakers in Lower House say they will uphold vetoes that have fiscal impact; majority of PDT will likely vote for overturning veto on judiciary wage increase

Cabinet shift likely to be announced tomorrow; Rousseff could give PMDB 7 ministries, giving into demands: Estado

Rousseff will appoint Jaques Wagner as chief of staff, replacing Aloizio Mercadante, G1 columnist Cristiana Lobo reports without saying how she got the information

Former President Luiz Inacio Lula da Silva in Brasilia to help with negotiations today; PT sees losing ministries as inevitable to stop impeachment: Folha de S.Paulo

Rousseff meets with governors from PSB in attempt to get closer to the party; could offer Science and Technology Ministry to party: Folha

PMDB's Marcelo Castro likely to be new health minister: Estado de S.Paulo

Arthur Chioro fired from post by phone: Folha

Govt considering removing CGU's ministry's status; CGU is responsible for fighting corruption: Estado

CNI publishes CNI/Ibope poll on Rousseff popularity at 10am local time

Govt's got wrong diagnosis, treatment, Murillo de Aragao, president of political consultancy Arko Advice, writes in Estado

Senate approves raising mandatory retirement age for civil servants to 75 years from 70

Brazil's CPMF proposal is 'plan A, B or C,' Planning Minister Nelson Barbosa Says

Brazil ex-Minister says Lula lobbied for Odebrecht: Globo

Lula says he acted to benefit the country: Folha

Some ministers from TCU court trying to delay ruling on Rousseff's campaign accounts: Folha

Brazil 2015 CPI est. raised to 9.5% after gasoline increase: BBVA
As Reuters reports, Cunha has now delayed a vote on the judiciary wage increase veto (that's one of the key vetoes not voted on last Tuesday and uncertainty around it may have helped to explain why Congress' move to uphold 26 of Rousseff's 32 vetoes failed to give the BRL any respite):
Speaker of the lower house of Brazil's Congress, Eduardo Cunha, on Wednesday delayed voting on key presidential vetoes that would block 47 billion reais ($11.8 billion) in new spending to help rebalance government accounts.

 

A joint session of Congress had been scheduled to decide whether to uphold vetoes by President Dilma Rousseff of bills that raise the wages of judiciary employees and benefits for retirees.

 

But Cunha decided first to discuss a bill allowing financing by private companies that Rousseff vetoed on Tuesday. He hopes to overturn this veto quickly to allow corporate donations to parties in next October's local elections.

 

Renan Calheiros, President of the Senate, said the joint-session could still be held later on Wednesday.
And as WSJ notes, Rousseff's approval ratings remain remarkably low:
Brazilian President Dilma Rousseff's approval ratings languished in September, held down by the country's economic and political crises, as her opposition in Congress considers opening impeachment proceedings.

 

Only 10% of respondents in a survey by the Ibope polling agency released on Wednesday said her government was "excellent" or "good," up slightly from 9% in a July poll, a difference within the survey's two-percentage-point margin of error. Of the 2002 people interviewed, more than two-thirds said her government was "bad" or "terrible."
Finally, Copom - which, you're reminded, is in crisis mode in an effort to defend the BRL (this week's dead cat bounce notwithstanding) without dipping into the country's FX reserves - is desperately trying to hang on to the narrative. Via Bloomberg:
Central bank expects the government to reverse the current primary deficit to a primary surplus equivalent to 0.7 percent of GDP next year, said the official with knowledge of the internal discussion over economic policy

Rousseff is showing determination to carry out the necessary political and economic measures that will shore up fiscal accounts, the official said, asking not to be named because the discussion isn't public

Says Brazil central bank expects swap rates to fall as government succeeds in convincing investors it will narrow the budget deficit

Says central bank waiting for clearer outlook on the budget front before assessing changes to monetary policy strategy

Says policy makers expect budget measures to help inflation slow back to the 4.5 percent target earlier than currently forecast by analysts

Says Brazil's currency will strengthen when government implements credible budget plan

Says central bank has more weapons in its arsenal to ensure currency markets function well and prevent volatility of the real; sees no capital flight.

Says policy makers see no need to sell dollars in the spot market at the moment due to lack of demand
So that is where things stand on the frontlines of the EM meltdown and because this update is already running long, we'll simply close by asking, "who wants tickets to the 2016 games in Rio?"