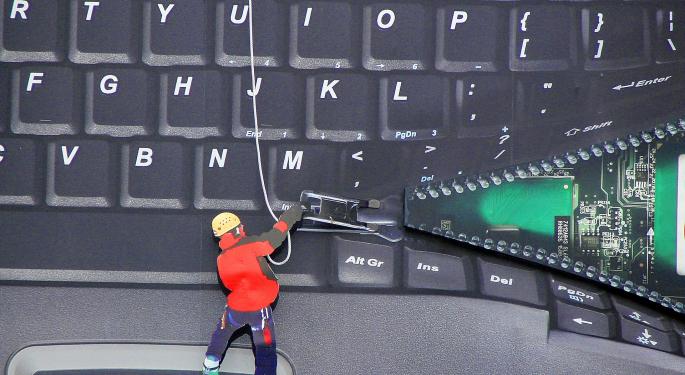 Slowly but surely, Internet advertising continues to eat away at TV advertising market share. According to the latest checks by MKM Partners analyst Rob Sanderson, Q1 advertising spend came in mostly in line with expectations.
MKM tracks advertising revenue among the top 15 Internet and television companies to measure changes in allocation. The tracker captures more than 70 percent of total TV and Internet advertising.
MKM found that Internet allocation was up 4.87 percent year-over-year (Y/Y), a bit short of its 5.69 percent Y/Y gain in Q4. Sanderson believes that 2016 likely won't repeat 2015's 5.0–6.0 percent shift in allocation due to the huge amount of political TV advertising this year.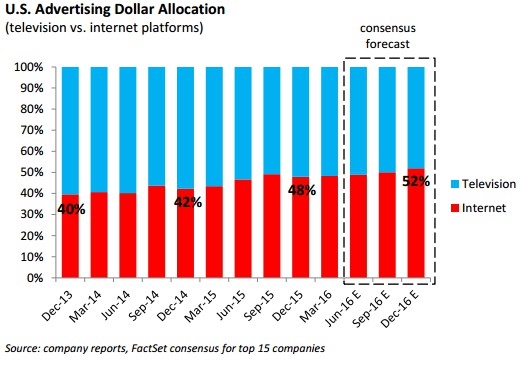 In MKM's "old media" index, more than half of the aggregate market cap is comprised of Comcast Corporation CMCSA 0.38% and Walt Disney Co DIS 0.86%.
Related Link: Apple Knocking On The Door Of Major Technical Breakdown, Lowest Level Since 2014
So far in 2016, the old media index has outperformed both the new media index and the NASDAQ, climbing 3.0 percent.
Among the top names in the new media index, MKM's top picks are Buy-rated on Alphabet and Facebook. MKM maintains a Neutral rating on Twitter Inc TWTR 0.32%.
Disclosure: The author holds no position in the stocks mentioned.
Date
Firm
Action
From
To
Apr 2016
Deutsche Bank
Maintains
Buy
Feb 2016
Deutsche Bank
Maintains
Buy
Feb 2016
Jefferies
Maintains
Buy
© 2016 Benzinga.com. Benzinga does not provide investment advice. All rights reserved.