Benchmarks continued to suffer a rout as Monday's volatile trading session ended in the red again. Investors remained concerned about China's economic slowdown. Chinese shares crashed on Monday as well. Meanwhile, Monday's heavy selling pushed the S&P 500 into the correction territory, while the Dow declined to an 18-month closing low.
For a look at the issues currently facing the markets, make sure to read today's Ahead of Wall Street article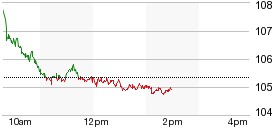 The Dow Jones Industrial Average (DJI) nosedived 3.6% or 588.40 points to close at 15,871.35. The Standard & Poor's 500 (S&P 500) slumped 3.9% to 1,893.21. The tech-laden Nasdaq Composite Index closed at 4,526.25, plunging 3.8%. The fear-gauge CBOE Volatility Index (VIX) skyrocketed 45.3% to close at 40.74. A total of about 13.9 billion shares were traded on Monday, well above the month-to-date average of 7 billion. Monday witnessed the largest trading volume since Aug 10, 2011. Decliners clearly outpaced advancing stocks on the NYSE. For 95% stocks that declined, 5% advanced.
The Dow had plunged more than 1,000 points during the first six minutes of trading, but recouped some of the losses as investors started buying beaten down stocks. The index finished in negative territory and settled at its lowest level since Feb 2014. All 30 Dow components ended in the red.
Meanwhile, the S&P 500 dropped more than 10% on Monday from its peak achieved on May 21. A drop...
More