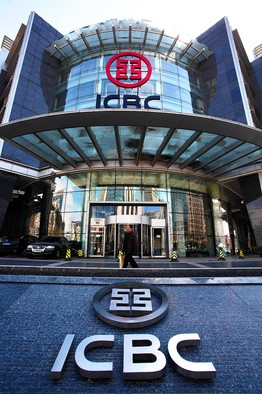 Looks like US should start outsourcing bank CEO. :)
Jiang Jianqing, chairman of Industrial & Commercial Bank of China Ltd., earned less than 2 percent of Jamie Dimon's compensation last year while reporting twice the profit of JPMorgan Chase & Co. Instead of a reward, Jiang is poised for a pay cut. 

China's government said last month it will reduce salaries for executives at state-owned companies because "unreasonably high" incomes have become a source of public discontent. The biggest banks have pledged to implement the plans, part of President Xi Jinping's campaign to bolster support by tackling government waste and corruption. 
The risk is that lenders will bleed talent just when China needs skilled managers to grapple with interest-rate deregulation, an explosion in shadow banking and rising levels of soured credit. While banks plan to test stock incentives for employees, the rollout of such measures may be slow and their scope limited, according to Guotai Junan Securities Co. and Changjiang Securities Co. 
"The big four state banks are really large entities that depend on hundreds -- if not thousands -- of highly skilled bankers to operate," said Victor Shih, an associate professor at the University of California at San Diego who studies China's politics and finance. An exodus of key staff could leave "a big mess," he said. 
Pay Gap 
The nation's five largest state-controlled banks -- ICBC, China Construction Bank Corp. (939), Agricultural Bank of China Ltd., Bank of China Ltd. and Bank of Communications Co. -- paid their combined 1.7 million employees an average of 230,300 yuan ($37,500) in salaries, bonuses and benefits in 2013, according to data compiled from annual reports. 
That's one-third less than at Beijing-based China Minsheng Banking Corp. (1988), the country's only privately owned listed lender and one of 12 mid-size national banks with mixed ownership, also known as joint-stock banks. 
The gap was even larger with foreign firms: JPMorgan (JPM) spent an average of $122,700 in employee salaries and benefits globally, while at HSBC Holdings Plc (5), the largest European bank, the amount was $71,400, according to data compiled by Bloomberg. Citigroup Inc.'s (C) locally incorporated China unit spent an average of about 363,000 yuan, or $59,000, on employee compensation last year, including salaries, bonuses, stock incentives and benefits, according to its annual report. 
Golf, Perks 
ICBC's Jiang, 61, earned 2 million yuan last year in salary, bonus and benefits as head of the world's biggest bank by assets and profit. That's equivalent to about $326,000, or 1.6 percent of the $20 million in total compensation for Dimon, 58, who is chairman and chief executive officer of New York-based JPMorgan, the largest U.S. lender by assets. ICBC (1398), based in Beijing, declined to comment on its outlook for pay and staff retention. 
The salaries of the heads of banks and so-called central state-owned enterprises may be reduced by as much as 70 percent and capped at 600,000 yuan, or less than $100,000, Caijing magazine reported on Aug. 25, citing people it didn't identify in the ministries of finance and human resources. Two calls to the State Council Information Office seeking comment on the Caijing report went unanswered. 
The cutbacks at state-owned enterprises also involve bans or restrictions on perks such as cars, club memberships, golf and "physical therapy," the government said on Aug. 29. 
Unswerving Support 
Agricultural Bank's President Zhang Yun said on Aug. 26 that the Beijing-based lender will "unswervingly support and strictly implement" any pay cuts, a position echoed by the leaders of other state-run banks. 
Zhang was paid 1.79 million yuan in 2012. His 2013 compensation is yet to be disclosed. Bank of China Chairman Tian Guoli got 1.36 million yuan for his first nine months at the Beijing-based lender after joining in April 2013. 
The pay-cut plans come as the government pledges to improve incentives at state-owned enterprises, reduce state ownership and hire top executives from outside government. Bank of Communications, the Shanghai-based lender partly owned by HSBC, says it wants to be the first to introduce stock incentives when China lifts a ban imposed in 2008 on such compensation. Caijing reported Aug. 25 that Bank of Communications and Bank of China may be selected for a trial. 
Wang Yichuan, a Wuhan-based bank analyst at Changjiang Securities, said staff may find that stock incentives do no more than offset salary cuts. 
"It's unrealistic to expect employee stock incentives to offer any meaningful lift to bankers' pay levels," said Richard Cao, a Shenzhen-based analyst at Guotai Junan Securities. "That would run against the government's campaign to limit excessive pay at SOEs and promote fairness amid public discontent." 
Source: Bloomberg