EUR/JPY has been bearish since December 2014, when it made a high on the year at 149.55. It fell into Mid-March to a 2015-low at 126.90 before a consolidation began. So far we can see that the 131.70 level has been holding the consolidation range under.

EUR/JPY Daily Chart 4/9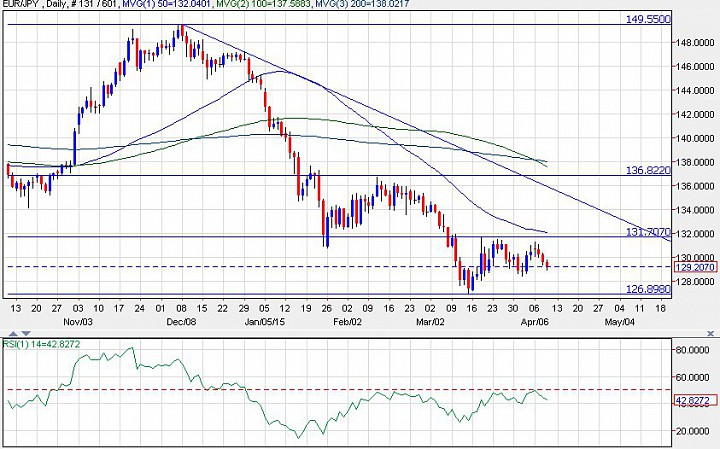 (click to enlarge)

131.70-132 is resistance involving the consolidation high and the 50-day SMA. A break above would open up the highs around 136. However, price would probably be challenged at 134 a previous support pivot reinforced by a falling trendline. 

We should remember though that the market is bearish, so the favored outlook is bearish continuation towards the 126.90 low with risk of extending lower.

EUR/JPY 4H Chart 4/9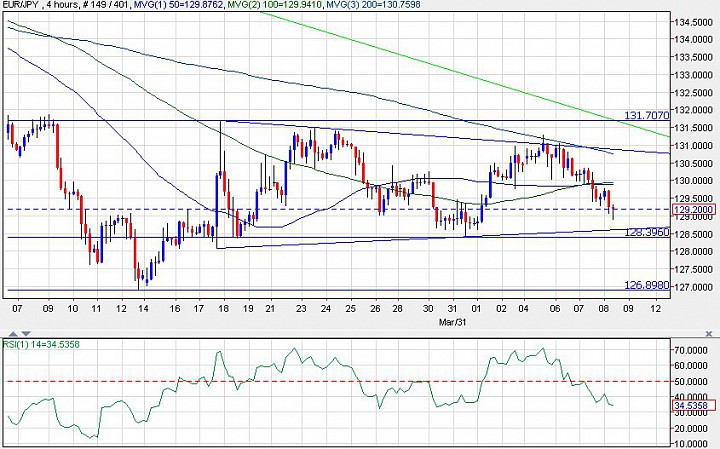 (click to enlarge)

While EUR/JPY is bearish in the medium-term, it is essentially sideways in the short-term, or at least since mid-March. As we can see in  the 4H chart the market has been oscillating around the 130 handle. 

We can also see that there are common support factors in the 128-128.50 area. 

Perhaps we can make a very short-term trade here around 128.50, with a stop below 128 and a target around 130. This should give us a slightly better than 2:1 reward to risk ratio, but a trade direction that is against the medium-term trade - but that is why we are limiting the target to 130, and not back towards the consolidation highs.

In fact, we might consider selling if price reaches the 130.50-131.00 area again.