Avis Budget Group, Inc. CAR just released its second-quarter 2017 financial results, posting earning of $0.30 per share and revenues of $2.24 billion. Currently, CAR is a Zacks Rank #4 (Sell) and is down 10% to $30.35 per share in after-hours trading shortly after its earnings report was released.
CAR:
Missed earnings estimates. The company posted earnings of $0.30 per share, which missed Street estimates of $0.54 per share.
Beat revenue estimates. The company saw revenue figures of $2.24 billion, just topping the Zacks Consensus Estimate of $2.23 billion.
Avis reported flat revenue from the year-ago period. The company saw an increase in overall rental days, but that jump was canceled out in part by a decrease in overall pricing. Avis also suffered from lower than expected revenue growth in the Americas, while international revenue growth was spurred by the purchase of FranceCars.
The company posted adjusted net income of $25 million. Avis' Adjusted EBITDA dropped to $140 million from $204 million a year ago. Avis repurchased $50 million worth of shares in the quarter, or 1.9 million shares of common stock.
Avis updated its full-year 2017 revenues expectations to between $8.8 billion and $8.95 billion. The company also updated its full-year adjusted EPS guidance to between $2.40 per share and $2.85 a share.
The company reported that it found an additional $25 million in cost savings opportunities, which would bring its 2017 total to $75 million.
"Our second quarter results in the Americas reflected both a 4% reduction in pricing resulting from industry over-fleeting and higher per-unit fleet costs due to lower used-vehicle values," President and CEO Larry De Shon said in a statement.
"Consequently, we have identified $25 million of additional savings opportunities globally, bringing our total expected savings this year to $75 million, and have lowered our full-year earnings guidance to reflect the difficult first half. Industry fleet levels in the Americas normalized to demand towards the end of the second quarter. This enabled us to transition to improved pricing, with revenue per day up more than 1% in July. Looking forward, I am now more optimistic that the industry issues we've been contending with should be behind us."
Here's a graph that looks at Avis' Price, Consensus and EPS Surprise history:
Avis Budget Group, Inc. Price, Consensus and EPS Surprise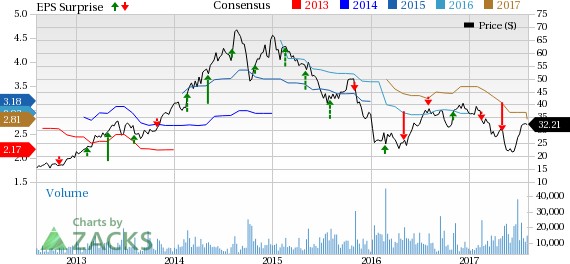 Avis Budget Group, Inc. Price, Consensus and EPS Surprise | Avis Budget Group, Inc. Quote
Avis Budget Group, Inc. is a leading provider of vehicle rental services, with operations in more than seventy countries. Through its Avis and Budget brands, the company is the largest general-use vehicle rental company in each of North America, Australia, New Zealand and certain other regions. Avis Budget Group is headquartered in Parsippany, N.J. Avis is a leading supplier to the premium commercial and leisure segments of the travel industry, and Budget is a leading supplier to price-conscious car rental segments. Avis Budget Group maintains the leading share of airport car rental revenue, and we operate the second largest consumer truck rental business in the United States. The company generate significant benefits from operating two distinctive car rental brands targeting different market segments but share the same fleet, maintenance facilities, technology and administrative infrastructure.
Check back later for our full analysis on Avis'earnings report!
5 Trades Could Profit "Big-League" from Trump Policies
If the stocks above spark your interest, wait until you look into companies primed to make substantial gains from Washington's changing course.
Today Zacks reveals 5 tickers that could benefit from new trends like streamlined drug approvals, tariffs, lower taxes, higher interest rates, and spending surges in defense and infrastructure. See these buy recommendations now >>
Want the latest recommendations from Zacks Investment Research? Today, you can download 7 Best Stocks for the Next 30 Days.
Click to get this free report
Avis Budget Group, Inc. (CAR): Free Stock Analysis Report
To read this article on Zacks.com click here.
Zacks Investment Research