Like most mall-based retailers, American Eagle Outfitters Inc. AEO has also been going through a rough phase of late largely due to soft store and mall traffic trends, as well as stiff competition that has been plaguing the retail space. Further, a rapid shift in consumer preference toward online shopping and the growth of eCommerce giant Amazon.com Inc. AMZN has spelt doom of many brick-and-mortar store retailers.

The cumulative impact of the aforementioned factors is quite visible in American Eagle's stock performance, which has underperformed the broader industry in the last three months. Shares of this Pittsburgh, PA-based apparel retailer have declined 5.9%, while the Zacks categorized Retail – Apparel and Shoes industry registered a 1.5% fall. Moreover, the stock has considerably lagged the Zacks categorized Retail and Wholesale sector's growth of 6.7%.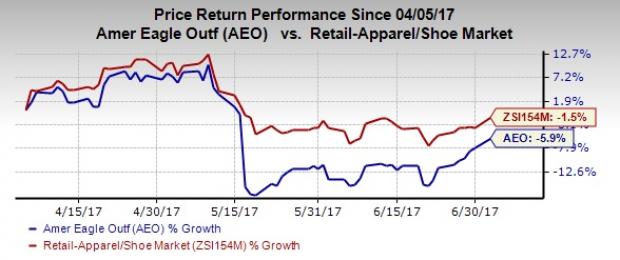 Additionally, these factors have weighed upon American Eagle's earnings performance in first-quarter fiscal 2017. Further, the company's dismal second quarter view and recently announced store closure plans have been deterrents for the stock. Aptly, the stock currently has a Zacks Rank #5 (Strong Sell).
American Eagle Outfitters, Inc. Price, Consensus and EPS Surprise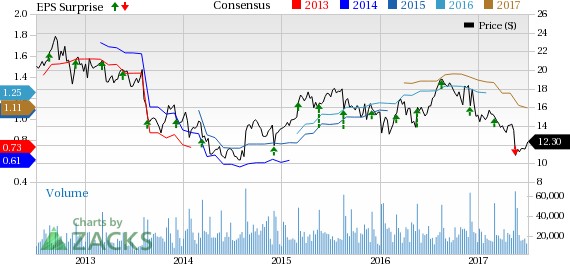 American Eagle Outfitters, Inc. Price, Consensus and EPS Surprise | American Eagle Outfitters, Inc. Quote
You can see the complete list of today's Zacks #1 Rank (Strong Buy) stocks here.

That said, let's get a better understanding of the various factors that have pushed the stock out of investors' favor.

Aggressive Store Closure Plans

While we can ponder upon various aspects to reason out the fate of this leading specialty retailer, one factor that stands out is the company's aggressive take on store closures. The company has been closing down stores to combat the decline in sales and higher store operating costs as traffic continues to remain soft. Notably, in first-quarter fiscal 2017, the company closed three stores while it opened six stores. Further, the company plans to shut down 25–40 stores in fiscal 2017.

Also, the company plans to accelerate store closures going forward. Moreover, it is experimenting with the closure of stores where the sales has clearly migrated from brick-and-mortar to online. Notably, American Eagle has about 500 stores' leases expiring in the next five years, providing opportunities for closing down the less profitable locations. This aggressive approach to store closures has considerably hurt investor sentiments.

However, American Eagle is not the only retailer which has resorted to this approach. Of late, many other American mall-based retailers have come up with plans to optimize store fleets in order to stay competitive and remain profitable in this eCommerce dominated space. Evidently, mall-based retailer J. C. Penney Co. Inc. JCP revealed plans to close about 138 stores in March, while Sears Holdings Inc. SHLD is looking to shutter 42 Sears locations. Further, department store chain Macy's Inc. M has also been aggressively closing stores in order to stabilize its brick-and-mortar business.

Additionally, American Eagle's close rival Bebe Stores Inc. BEBE has opted to shut down all of its brick-and -mortar stores and serve customers by re-launching its eCommerce platform as well as international brick-and-mortar stores. Also, Abercrombie & Fitch Co. ANF plans to shut down 60 stores in the U.S on the basis of lease expirations.

Margins

Coming back to American Eagle, the company's margins continue to remain pressurized owing to intense promotions undertaken by the company to counter sluggish demand. Further, it expects weak merchandise margins in second quarter fiscal 2017, owing to intense promotional activities. SG&A expenses are forecasted to increase in low single-digits.

Dismal Outlook & Downtrend in Estimates

Moreover, the company's dismal second-quarter guidance remains a deterrent. Driven by expectations of increased discounts and higher shipping expenses on online sales, the company anticipates comps to range from flat to down low single-digits in the second quarter. Also, the company envisions earnings in the band of 15–17 cents, which is pegged considerably lower than the year-ago earnings of 23 cents.

Consequently, the company's estimates have been witnessing a downtrend in the last seven days. The Zacks Consensus Estimate for fiscal 2017 and fiscal 2018 has declined to $1.11 per share and $1.16 per share, from $1.13 and $1.17, respectively.

Today's Stocks from Zacks' Hottest Strategies

It's hard to believe, even for us at Zacks. But while the market gained +18.8% from 2016 - Q1 2017, our top stock-picking screens have returned +157.0%, +128.0%, +97.8%, +94.7%, and +90.2% respectively.

And this outperformance has not just been a recent phenomenon. Over the years it has been remarkably consistent. From 2000 - Q1 2017, the composite yearly average gain for these strategies has beaten the market more than 11X over. Maybe even more remarkable is the fact that we're willing to share their latest stocks with you without cost or obligation. See Them Free>>
Want the latest recommendations from Zacks Investment Research? Today, you can download 7 Best Stocks for the Next 30 Days.
Click to get this free report
Amazon.com, Inc. (AMZN): Free Stock Analysis Report
Abercrombie & Fitch Company (ANF): Free Stock Analysis Report
American Eagle Outfitters, Inc. (AEO): Free Stock Analysis Report
Macy's Inc (M): Free Stock Analysis Report
J.C. Penney Company, Inc. Holding Company (JCP): Free Stock Analysis Report
To read this article on Zacks.com click here.
Zacks Investment Research