BHP Billiton Ltd. wants women to account for half of its workforce by 2025 as the world's top miner seeks to change the gender balance in an industry dominated by men.
The company isn't "as inclusive or diverse as we could be," Chief Executive Officer Andrew Mackenzie said in a statement on Thursday. BHP has a workforce of about 65,000, including contractors, of which 18 percent are female. Based on these numbers, its target would mean an additional 21,000 women employed by the middle of the next decade including both its own staff and contractors, according to Bloomberg calculations.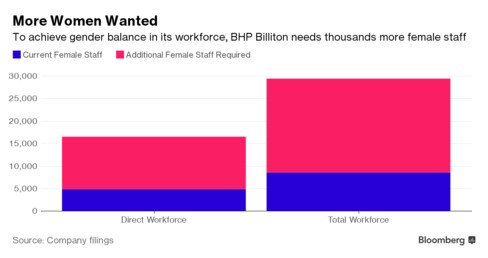 The $800 billion mining industry has long been a male-dominated business, with women even banned from working underground in some countries until recently. Men hold a majority of executive positions in resources companies, lagging behind other sectors. While the proportion is growing, female directors accounted for only 10.9 percent of miners' boards on average in 2014, compared with more than 15 percent in consumer goods and services, according to a study by Women in Mining UK and PricewaterhouseCoopers.
"Without new initiatives it would take us 30 years just to get to 30 per cent female representation," BHP's Mackenzie said in the statement. "More must, and will, be done. And our 2025 aspirational goal is to achieve gender balance at all levels of the organisation over the next decade."
Out of BHP's direct workforce of 27,000, women...
More