The euro weakened further to a fresh 12-year low against the dollar in Asian trade Thursday, amid growing expectations that the Federal Reserve will offer clues over the introduction of higher U.S. interest rates at its policy meeting next week.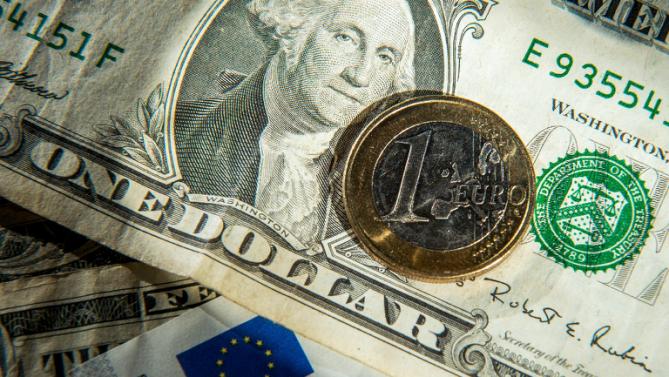 The slide in the euro has also picked up pace this week with the European Central Bank firing up its huge bond-purchase program. The bank's quantitative easing program is driving long-term bond yields in the eurozone closer to zero as the ECB buys government debt with freshly printed euros.
The common currency EURUSD, +0.55% briefly touched dipped to $1.0494 in midday trading--its lowest since Jan. 10, 2003, before firming slightly to $1.0537. The pair was at $1.0547 late Wednesday in New York.
"With the ECB's easing pulling down eurozone bond yields, the euro is taking the lead (among currencies to sell) against dollar buying," said Akira Moroga, manager of the forex products group at Aozora Bank.
Moroga said the euro selling triggered options related stop loss selling orders, helping the pair slide further. But he said the pair didn't end up falling further, suggesting the possibility of quick upward turnaround on covering of short positions.
The scale of the euro's decline is surprising because the structure of the ECB's stimulus measures has been known for some time, Katie Martin says.
"Anticipating the upcoming FOMC meeting, investors are becoming aware when the X-day will be," said Daisaku Ueno, chief FX strategist at Mitsubishi UFJ Morgan Stanley, referring to the upcoming Federal Open Market Committee next week.
"Assuming a higher dollar in the process of U.S. interest policy normalization, it is easier to go ahead with selling the euro," given the ECB's massive bond-purchasing program, said Ueno.
He expects the euro to reach parity with the dollar as early as the October to December quarter, given the increasingly clear monetary and economic divergence between the eurozone and the U.S.
Nomura Securities chief FX strategist Yunosuke Ikeda said investors willing to buy the dollar are inclined toward selling the euro, the Australian dollar and Swiss franc, currencies for countries where monetary authorities desire weakness. But there remains a persistent view that Japanese authorities don't want a weaker yen, making it harder for investors to sell the yen.
In Asia trade, the dollar was USDJPY, -0.32% almost flat at ¥121.47 against ¥121.46 in New York, with investors taking a wait-and-see stance ahead of the U.S. retail sales data for February later today.
The euro EURJPY, +0.23% weakened to ¥127.69 from ¥128.08. The single currency lost about 4.6% against the Japanese currency since the beginning of this month.
The WSJ Dollar Index BUXX, -0.57% a measure of the dollar against a basket of major currencies, was up 0.07% at 89.14.
marketwatch