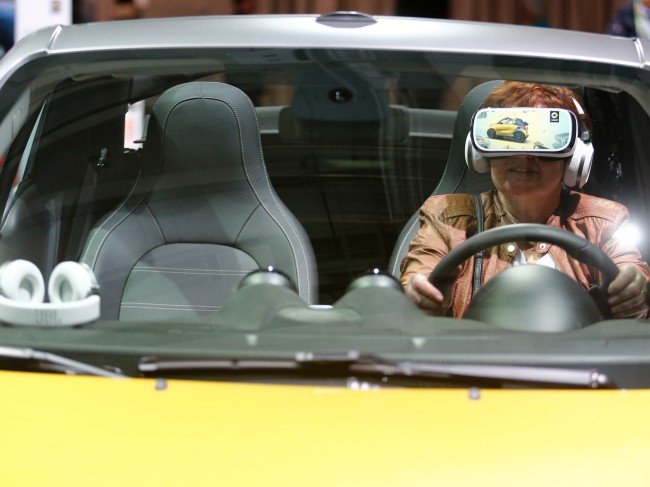 (Reuters/Hannibal Hanschke)
A woman using virtual reality goggles while sitting in a "smart fortwo cabrio" car before the Daimler annual shareholder meeting in Berlin.
Here is what you need to know.
The Japanese yen is surging. Haruhiko Kuroda, the Bank of Japan's governor, on Thursday suggested the central bank could ease policy even further if needed. Those comments sent the yen as high as 108.02 per dollar, its strongest since October 29, 2014, two days before the central bank announced plans to increase the size of its quantitative and qualitative easing (QQE) stimulus program. Thursday's 1.2% gain has the yen up nearly 10% versus the dollar in 2016.
China's FX reserves stopped sliding. China's foreign-exchange reserves increased by $10 billion in March to $3.2312 trillion. The 0.3% uptick was the first increase in four months and is a welcome sign for China, which has bled through $800 billion of foreign cash after its reserves peaked at about $4 trillion in the middle of 2014. Economists were forecasting a drop of $6 billion.
Venezuela is making Fridays a holiday to conserve energy. Every Friday for the next two months has been declared a holiday by Venezuelan President Nicolas Maduro. According to Reuters, the measure is part of a 60-day plan to fend off a power crunch that has been exacerbated by drought and weak investment in energy infrastructure. The announcement was met with...
More