The countdown to Amazon Prime Day 2017 has begun.
Yesterday, Amazon.com, Inc. AMZN announced Jul 11 as its third annual Prime Day. Sellers and entrepreneurs from around the world will offer thousands of deals on items ranging from electronics, toys, household goods and apparels. Deals will begin at 6pm PT/9pm ET on Jul 10 and run until 12 am PT/3am ET on Jul 12.
Investors First
In 2016, Amazon outperformed the S&P 500 in the period between the announcement of Prime Day and the event itself. The stock returned 4.6% against the index's gain of 2.5%. We also note that the stock has returned 30.4% from Prime Day 2016 to date compared with the index's gain of 12.3%.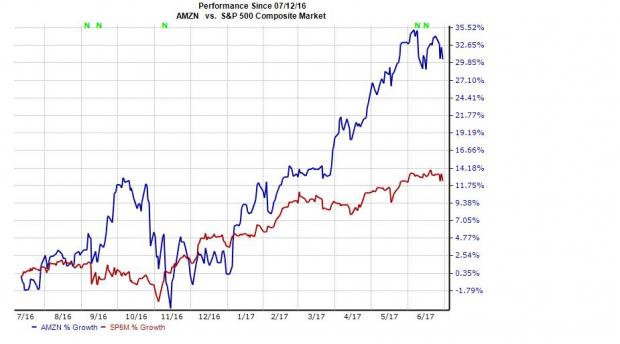 We expect this year's Prime Day to carry the momentum forward and bring good news to investors.
What's New?
This year the retail giant is giving Prime members 30 hours to shop instead of 24. The company is expanding the sale to 13 countries including the U.K., India, China, Germany and Mexico. Deals could be sorted based on more than 20 popular themes including pet lovers, gardeners, artists and techies.
That's not all. Echo device users will get more Alexa-exclusive deals. The Amazon App is offering to watch early deals in every country, notifications to pop up. The company is allowing Prime members from Mexico and China to shop local as well as select deals from other countries through Amazon Global Store. The company will offer attractive TV deals from a number of brands including the new Element 4K Ultra HD Smart LED TV - Amazon Fire TV Edition.
Amazon.com, Inc. Revenue (TTM)
Just Look at the Numbers!
The number of sellers and small businesses participating in Prime Day 2016 globally grew more than 100% over 2015. Amazon sold 20 times its normal daily sales. This year, Amazon expects small businesses and sellers to offer more than 40% Prime Day Lightning Deals worldwide.
Prime Day in 2016 saw orders surge 60% globally and 50% in the U.S. year over year. Amazon said it was the biggest single day sale ever. We can expect notable improvements to these numbers this year with more hours and countries included.
Others to Follow
While a few pre-Prime Day deals were on offer on Jun 29, the real blitzkrieg is anticipated to commence at midnight on Jul 12. Apart from Amazon, some other retail heavyweights such as Wal-Mart WMT and Best Buy BBY are also expected to follow suit in the coming weeks.
Mission Prime
Apart from boosting sales and attracting more customers to Prime, Amazon appears to be prepping up to counter Prime saturation that is apparent in the U.S. due to its increased penetration rates. The inclusion of more hours and countries into the game of discounts underscores Amazon's push to expand Prime internationally.
A solid loyalty system in Prime has kept Amazon's retail business unbeatable on price, choice and convenience. Prime memberships help in repeat sales of not just general merchandise but also media (books, music, video, etc).
However, the most interesting part is the focus on Chinese customers and small business in the U.S. This seems to be Amazon's answer to Alibaba's BABA increasing push to attract U.S. small businesses.
Amazon currently carries a Zacks Rank 4 (Sell).
You can see the complete list of today's Zacks #1 Rank (Strong Buy) stocks here.
5 Trades Could Profit "Big-League" from Trump Policies
If the stocks above spark your interest, wait until you look into companies primed to make substantial gains from Washington's changing course.
Today Zacks reveals 5 tickers that could benefit from new trends like streamlined drug approvals, tariffs, lower taxes, higher interest rates, and spending surges in defense and infrastructure. See these buy recommendations now >>
Want the latest recommendations from Zacks Investment Research? Today, you can download 7 Best Stocks for the Next 30 Days.
Click to get this free report
Amazon.com, Inc. (AMZN): Free Stock Analysis Report
Alibaba Group Holding Limited (BABA): Free Stock Analysis Report
Best Buy Co., Inc. (BBY): Free Stock Analysis Report
Wal-Mart Stores, Inc. (WMT): Free Stock Analysis Report
To read this article on Zacks.com click here.