The pair's cover story interview with 'PAPER Mag'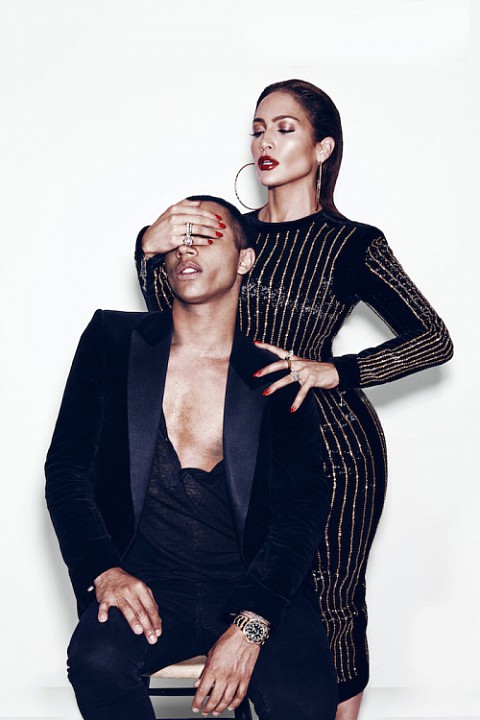 At just 29 years of age, Balmain's Creative Director Olivier Rousteing is heralded for his sexy, feminine and edgy designs. The French fashion designer has been at the helm of the luxury brand for four years now, and has already worked with muses like Rihanna. At 46 years of age, Lopez is facing a year of preparations for her upcoming residency at Planet Hollywood in Las Vegas, slated for 2016. The two friends sat down with PAPER Mag in the Hamptons (and graced the September issue cover) to talk their opinions in topics of fashion, race, feminism and pop culture. Excerpts of the interview can be found below. You can read the rest of the article here.
Olivier, what is luxury to you?

Rousteing: For me, luxury today is confidence in assuming who you are, where you are, no matter where you come from. And that's what I think I do with Balmain… When you want to wear something onstage, you want to wear it not because it's a party dress, but because it's armor. It's something you feel really strong in that you're going to show to the world.

Jennifer, what is it about Olivier's work that says luxury to you?

Lopez: Wearing them just now, it feels very much like me. I know probably every girl thinks this, and that's the genius of a designer: everybody who puts it on feels like, "Oh my god, this is made for me!" It's the velvet, it's the sparkle; it's so ready for the spotlight. I think every girl who wears any special thing, they want to feel like they're a star. And that's how you feel when you wear one of Olivier's dresses.

Do you think that fashion houses need celebrities nowadays?

Rousteing: Yeah, because celebrities are so inspiring. It doesn't matter about the money or where you live or where you come from. I think celebrities have something to say to the world, and they have a communication that is so inspiring to the new generation. And communication is what's most important today. I think celebrities help fashion survive.

You've brought up racism before. Balmain is one of the few luxury houses that cast diverse models. Why don't luxury houses cast more black or Asian models?

Rousteing: Because they're not living in the real world. You asked me why we need celebrities in fashion, which I think was really smart. Celebrities come from music. I think the music system is way more open-minded and way more diverse. Fashion people sometimes forget that, except for the front row that you're going to get at your show, there's an entire world that loves fashion. So it's important for me and for Balmain to show the diversity because it's also about the luxury of communication. And you don't communicate for just 10 people in the room during a show; you communicate to an entire world.

You have a collection with H&M coming out. How do you keep your identity while doing a fast-fashion collection?

Rousteing: It's a bit of a challenge. But it's really, really important for me to keep my identity. It's been a lot of work on the fabric and the techniques because when they were saying, "What is Balmain for you?" I said, "It's couture, it's couture, it's couture." But couture isn't only about embellishment; couture is the amount of hours you're going to work on the fitting, on the tailoring of the jacket to make it perfect. We obviously switched some fabric and some techniques, but we worked so much to give people the DNA of the house. I wouldn't have done this collaboration if I couldn't give my identity.

Your line is so entrenched in the music world.

Rousteing: Music is my life. I couldn't sketch and I couldn't create without music.

Lopez: Pop culture and fashion have always had a correlation, from old Hollywood to contemporary music. As a performer, I know that clothes are an expression of the music I create or the character I play.

So what does luxury mean to you both outside of fashion?

Rousteing: My luxury today is feeling free. It's freedom. I think it's the most priceless thing. And I'll tell you the truth: if you ask me, "What about Balmain is luxury?" it's not the amount of dresses that I did that cost more than $20,000. For me, luxury is feeling free to express who I am and what I want to do. That's luxury for me.

Lopez: Everyone has their own definition of luxury. For me, sometimes it means the quiet moments away from the business of my life, when I get to spend time with my children and my family. And I agree with Olivier: freedom of choice is a true luxury. We are lucky to have it.
Author: Ashleigh Kim/Photographer: Nicolas Moore