Iron Mountain Inc. IRM reported third-quarter 2017 normalized funds from operations (FFO) of 55 cents per share that missed the Zacks Consensus Estimate of 56 cents but increased 10% year over year.
Adjusted earnings per share came in at 31 cents compared with 27 cents reported in the prior-year quarter.
Revenues of $966 million beat the Zacks Consensus Estimate of $958 million and improved 2.4% year over year. At constant currency (cc), storage revenues were up 4.3% to $601.1 million while service revenues fell 0.5% to $364.6 million. The company achieved internal storage rental growth of 3.5% in the quarter.
Iron Mountain reported adjusted EBITDA of $323 million compared with $294.2 million in the year-ago quarter. Moreover, adjusted EBITDA margin improved 230 basis points (bps) to 33.5% from 31.2% in the year-ago quarter.
The strong year over year performance was mainly driven by synergies from Recall Holdings acquisition, transformation initiatives and continued strong performance of its storage rental business.
We note that on a year-to-date basis, the stock has gained 22.8%, outperforming the industry's growth of 2.3%.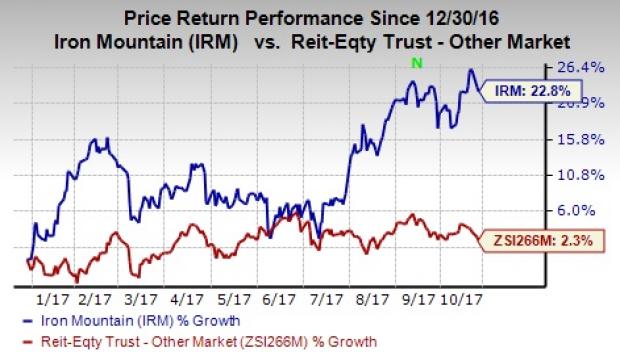 Quarter Details
Operating expenses decreased 2.3% year over year to $788.9 million. Selling, general & administrative (SG&A) expense decreased 4.2% from the year-ago quarter to $242.4 million. Depreciation & amortization increased 3.1% year over year to $128.5 million.
Operating income increased 30.5% from the year-ago quarter to $176.8 million. Operating margin expanded 390 bps to 18.3%.
Iron Mountain exited the quarter with cash and cash equivalents of $337.9 million compared with $236.5 million as of Dec 31, 2016. Long-term debt was $6.7 billion compared with $6.1 billion as of Dec 31, 2016.
Iron Mountain hiked its dividend by 6.8% to 58.75 cents per share (for both stock and CDI) payable on Jan 2, 2018 to shareholders as of Dec 15, 2017. CDI holders will be paid on Jan 16.
Iron Mountain Incorporated Price, Consensus and EPS Surprise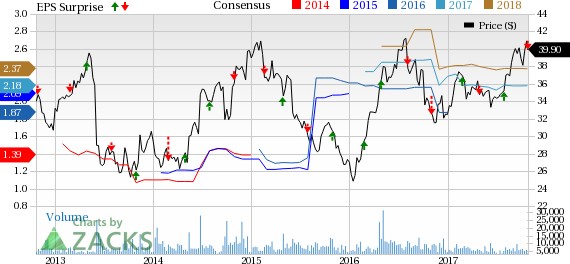 Iron Mountain Incorporated Price, Consensus and EPS Surprise | Iron Mountain Incorporated Quote
Outlook
The company has reiterated its outlook for the full year. Iron Mountain still expects revenues to be in the range of $3.750–$3.840 billion, reflecting 8–10% growth year over year.
Similarly, adjusted EBITDA guidance range of $1.250–$1.280 billion, representing growth of 16–19%, has been maintained. Adjusted FFO is expected to be in the range of $715–$760 million.
Internal storage rental growth rate expectation for 2017 has been slightly upped to 3% to 3.5% compared with the earlier expected range of 2.5%–3%. Capital expenditures and non-real estate investment are projected to be $150 million.
Our Take
Iron Mountain's strong product portfolio, increasing market share and promising international business are the primary growth catalysts.
The company is also investing a lot in setting up its data center business. It acquired FORTRUST for $128 million. The acquisition will add 9 MW of existing capacity and opportunity for further expansion in the future.
Combined with the data center facility in North Virginia, the company will have 30 megawatts of capacity by year end, per management. Moreover, the company's recent announcement to acquire data centers in London and Singapore will help it gain ground in the international markets.
However, Iron Mountain's Service revenues remain modest due to falling activity rates as stored records are becoming less active. Besides, forex fluctuations, fragmented nature of the industry and stiff competition continue to be overhangs. Further, the company's highly-leveraged balance sheet remains a concern.
Currently, Iron Mountain carries a Zacks Rank #3 (Hold).
Stocks to Consider
Top-ranked stocks in the broader technology sector include NVIDIA Corporation NVDA, Texas Instruments Incorporated TXN and Jabil Inc JBL. All sport a Zacks Rank #1 (Strong Buy). You can see the complete list of today's Zacks #1 Rank stocks here.
Long-term earnings growth rate for NVIDIA, Texas Instruments and Jabil is currently projected to be 10.3%, 9.6% and 12%, respectively.
Zacks' Hidden Trades
While we share many recommendations and ideas with the public, certain moves are hidden from everyone but selected members of our portfolio services. Would you like to peek behind the curtain today and view them?
Starting now, for the next month, I invite you to follow all Zacks' private buys and sells in real time from value to momentum...from stocks under $10 to ETF to option movers...from insider trades to companies that are about to report positive earnings surprises (we've called them with 80%+ accuracy). You can even look inside portfolios so exclusive that they are normally closed to new investors.
Click here for Zacks' secret trade>>
Want the latest recommendations from Zacks Investment Research? Today, you can download 7 Best Stocks for the Next 30 Days.
Click to get this free report
Iron Mountain Incorporated (IRM): Free Stock Analysis Report
Texas Instruments Incorporated (TXN): Free Stock Analysis Report
NVIDIA Corporation (NVDA): Free Stock Analysis Report
Jabil Circuit, Inc. (JBL): Free Stock Analysis Report
To read this article on Zacks.com click here.
Zacks Investment Research