SUPERVALU Inc. SVU posted better-than-expected sales in first-quarter fiscal 2018, which came ahead of the consensus, after missing in seven out of the past eight straight quarters, excluding the current one. Consequently, its shares have rallied more than 15% in after-market trading hours. However, earnings missed the Zacks Consensus Estimate.
Quarter in Detail
SUPERVALU posted adjusted earnings per share of 9 cents that marginally lagged the Zacks Consensus Estimate of 10 cents by 10.0%. However, earnings grew 12.5% from the prior-year quarter, backed by higher sales in the wholesale business, offset by higher tax rate.
We note that the company has reported negative surprises in three of the past five quarters, including the current one. In fact, the Zacks Rank #3 (Hold) company's shares have underperformed for the last three months. The stock has lost 10.3% over the last three months, wider than the industry's decline of 2.7%.

SUPERVALU's net sales rose 6.3% year over year to $4,004 million. Also, the top line came ahead of the Zacks Consensus Estimate of 3,978 million. This upside was backed by increased sales witnessed at the Wholesale segment but were hurt by the decline in Retail net sales. The company also lost some volumes as Marsh Supermarkets, one of the company's large affiliations from fiscal 2017, filed for bankruptcy protection in May.
Gross profit was almost flat from the prior-year quarter at $551 million. However, margin contracted 80 basis points to 13.8%, due to the change in business segment mix, with Wholesale representing a larger portion of total sales and gross profit. Adjusted operating earnings also plummeted 24.7% due to higher selling and administrative costs.
Segment Details
Wholesale: Net sales at Wholesale business grew 12.4% year over year to $2.6 billion, mainly driven by sales to new customers, coupled with greater sales from new outlets operated by existing customers. These were partly compensated by stores from the previous year that are no longer supplied by the company. Lower military sales also dented sales growth. Also, the segment's operating income came in at $71 million, up from $64 million recorded in the year-ago quarter. Operating margin however remained flat at 2.8%.
Retail: Net sales at Retail slipped 2.7% to $1.4 billion. This decrease represents store closures and unfavorable identical store sales of 4.9%, partly mitigated by sales from acquired and new outlets. Moreover, customer counts decreased 5.0%, while average basket size slightly increased in the quarter. Also, deflation remained flat in the quarter.
In fact, we note that this leading grocery dealer is witnessing sluggish sales in the retail business due to tough competitive pressure, lower store traffic and deflationary environment in the food industry. This is the ninth consecutive quarter of comp sales decline of the retail segment.
Further, the segment reposted operating loss of $4 million, down from $8 million of operating earnings in the year-ago quarter, due to lower sales and higher employee costs, partially due to acquired and new stores.
Corporate: During the fiscal first quarter, fees earned under services agreements were down 6.8% to $55 million. Further, the segment reported adjusted operating earnings of $13 million, down 7.1% as against operating income of $14 million delivered in the year-ago quarter.
SuperValu Inc. Price, Consensus and EPS Surprise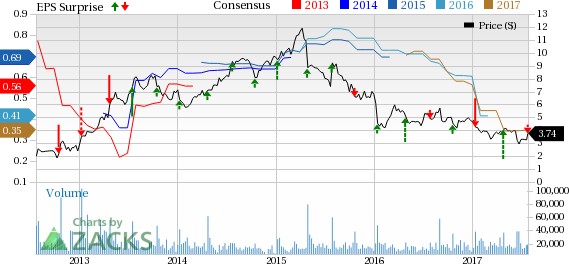 SuperValu Inc. Price, Consensus and EPS Surprise | SuperValu Inc. Quote
Other Developments
At the end of the first quarter, SUPERVALU closed its deal to buy grocery distributor Unified Grocers for $375 million. This deal is in line with the company's Wholesale segment's three-pronged strategy, which focuses on maintaining its existing customers, discovering more business with the existing customers and adding new wholesale customers. Hence, the acquisition will boost Supervalu's wholesale business and will also complement its customer base.
Financial Update
SUPERVALU's cash and cash equivalents totaled $252 million as of Jun 17, compared with $332 million as of Feb 25. Long-term debt was $1.28 billion and total stockholders' equity came in at $397 million as of Jun 17, compared with long-term debt of $1.26 billion and stockholders' equity of $383 million in the preceding quarter.
Further, net cash from operating activities of continuing operations came in at $47 million in the quarter.
Outlook
For fiscal 2018, management expects adjusted EBITDA, including Unified Grocers, of $475 to $495 million.
Overall, the company is striving hard to spark a turnaround and return to its growth trajectory. The company is also geared to expand its retail banners in order to boost sales, along with the intention to capitalize on the private brands portfolio among the retail banners. Moreover, it is trying all means to rejuvenate its retail segment, reduce costs and increase operating efficiency.
We commend SUPERVALU's efforts to develop the wholesale operations, primarily through adding new customers, retaining and developing business with existing customers and acquisitions. In fact, the recent acquisition of Unified Grocers is expected to radically boost the company's wholesale segment, alongside offering new growth opportunities across multiple geographies. Its wholesale business will drive the momentum further and boost its near-term results.
Zacks Rank & Stocks to Consider
SUPERVALU currently carries a Zacks Rank #3 (Hold).
Some better-ranked stocks in the food industry are Nomad Foods Limited NOMD, Post Holdings, Inc. POST and Kellogg Company K. While Nomad Foods and Post Holdings sport a Zacks Rank #1 (Strong Buy), Kellogg carries a Zacks Rank #2 (Buy). You can see the complete list of today's Zacks #1 Rank stocks here.
Nomad posted a positive earnings surprise of 3.8% in the last quarter. While Post Holdings has a long-term earnings growth of 14.0%, Kellogg's expected long-term earnings growth is 5.9%, for the next three to five years.
The Hottest Tech Mega-Trend of All
Last year, it generated $8 billion in global revenues. By 2020, it's predicted to blast through the roof to $47 billion. Famed investor Mark Cuban says it will produce ""the world's first trillionaires,"" but that should still leave plenty of money for regular investors who make the right trades early. See Zacks' 3 Best Stocks to Play This Trend >>
Want the latest recommendations from Zacks Investment Research? Today, you can download 7 Best Stocks for the Next 30 Days.
Click to get this free report
Kellogg Company (K): Free Stock Analysis Report
Post Holdings, Inc. (POST): Free Stock Analysis Report
SuperValu Inc. (SVU): Free Stock Analysis Report
Nomad Foods Limited (NOMD): Free Stock Analysis Report
To read this article on Zacks.com click here.
Zacks Investment Research