At the first glance Yahoo! it is very bad choice for investor. With falling for last year prices and reducing earnings, Yahoo! one of the big loser in the market. Prices fell from 50.50$ in the beginning of the yearto the current 33.99$.
P/E with non reoccurring items is 135.96. Quite high. So earnings in the 2015 seems to fall dramatically in compare to the 2014 and 2013. Also, Yahoo! experienced negative operational income for the third quartile of this year.
Another point which you should look, it is insider ownership: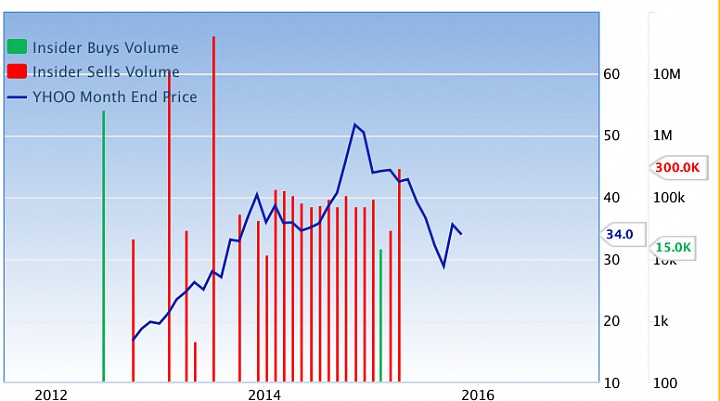 So, as you can see from graph insiders sells Yahoo! stocks. This is very bad indicator, as managers don't trust in the company. As managers know about company much more than any outside investor, theiropinion about company is crucial. Yahoo! ROE is 0.71% which is lower than 63% of companies in the industry.
With the fact that Yahoo! main sphere of havebusinessis very risky (as they acknowledge themselves) , which containbigger competitors with bigger recourses and at the same time there is probability that new startups can totally eat Yahoo core businesses.
Concluding it seems that Yahoo! is very bad choice for long - term investors. However investors still have opportunity to earn cash on the Yahoo. How?
Main thing that Yahoo! own 15% of Alibaba and they intend to extract this part of the businesses. And they want deliver this part of Alibaba to shareholders with avoiding tax-bills.
In the past year, they sold huge part of Alibaba stocks right after Alibaba IPO. This caused huge increase in the net profit (however as it is not touched operational income, their prices has not increased so much). Also, they paid giant taxes after the selling of Alibaba stocks.
Now price of Yahoo! depend on the price ofAlibaba stocks. This can be seen on the following graph: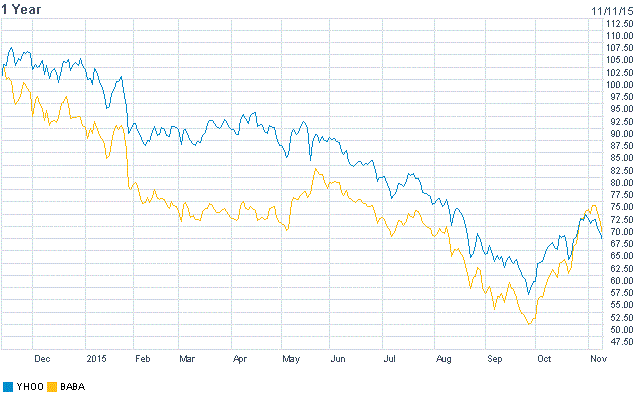 So you can make a deal by buy Yahoo! now you can then receive 15%of Alibaba. Alibaba is opposed to the Yahoo! have nice performance for the last years. (ROE 39.79% , PEG 0.15)
In the beginning of the year Board of Directors of Yahoo! Inc authorized a plan for a tax-free spin-off of its remaining holdings in Alibaba Group into a newly formed independent registered investment company Aabaco Holdings Inc. On September 2015 they filed an amendment to form N-2 (filed initially on July 17, 2015) with the SEC. The shares of Aabaco Holdings are expected to be listed on the Nasdaq Global Select Market under the ticker symbol "AABA". Immediately after the spin-off, Aabaco Holdings' investment assets will consist of 383.6 million ordinary shares of Alibaba Group Holding Limited, representing a 15.4% ownership interest in Alibaba, and a 100% ownership interest in Aabaco Small Business ('ASB'). ASB will take over 'Yahoo! Small Business' operations just before the spin-off. Aabaco Holdings will hold 290.9 million of its ordinary shares through Aabaco Holdings Hong Kong Limited that engages in no other business or operations, and owns no other assets. The balance of the Ordinary Shares will be held directly by the Aabaco Holdings. Following the spin-off, Yahoo! will continue to operate its core business and retain its 35.5% interest in Yahoo! Japan.
In the october 20, Marissa Mayer said that Yahoo's board needs more time to give its final approval as does the Securities and Exchange Commission. Furthermore, the upcoming holiday vacations will likely cause delays. The spinoff is likely to close in early 2016.
This delay may play good role for investors, who hadn't alreadyrecognized the value of this spin-off. We intend you to show that money can be made there, by calculating of Yahoo! stocks.
In order to calculate intrinsic value of Yahoo! we have used the sum-of-the-parts (SOTP) method. Core Yahoo! company value was calculated by 3 methods. These 3 methods: valuation based on Graham ideas from "Intelligent Investor",Discounted Cash Flow based on the Free Cash Flowand classical DCF method.
First method use the fact thatcurrent price should not be more than 15 times average earnings of the past three years as Graham suggested in his famous book. Also current price should not be more than 1.5 times the book value of the last report. So, multiplying two optimalcoefficients (P/E, P/B), we have number 22.5.Comparing this product with real EPS and book value of the shareswe can value our stocks. "
Second method based on Discounted Cash Flow DCF (FCF Based), or Discounted Earnings Intrinsic Value: DCF (Earnings Based is the valuation model based on normalized Free Cash Flow and Book Value of the company.
This method smoothes out the free cash flow over the past 6-7 years, multiplies the results by a growth multiple, and adds a portion of total equity.
Value = ((Growth Multiple)*Free Cash Flow(6 year avg) + 0.8*Total Equity(most recent))/Shares Outstanding
And DCF method on the assumption growth rate would be equal to the 5%.
In order to correctly access value of Yahoo! stocks, we should use two cases:
1) when Yahoo! fail to minimize tax bills
2) Yahoo! succeeded in the tax-free spin-off.
So we valued company for the both cases
As of today, the stock price of Yahoo! Inc is $33.99.
Calculations: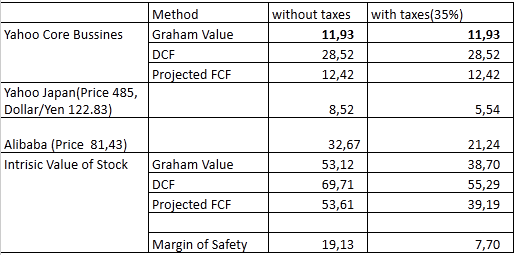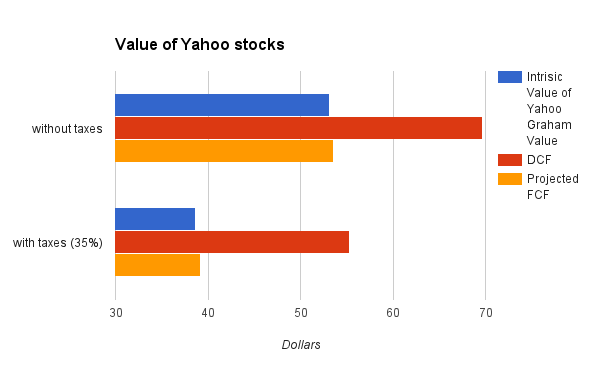 As you can see Graham value gives smallest Intrinsic value for Yahoo!, so more risk-averse investors can take this number as benchmark. Margin of Safety for the tax-free case would be 19,13$and only 7,70$ in case that Yahoo! would pay taxes.
As Margin of Safety quite small for the second case, it can be seen that investing in the Yahoo! risky.However, margin of safety such small onlywhen Yahoo! would pay taxes. CEO of company Marissa Mayer, on other hand very confident, that they eventually would not pay taxes.
Ifinvestor would purchase stock now, he would get two stocks for the price of one. As some investors only indented to hold Yahoo!, only for its Alibaba part, they would immediately sell Yahoo! stocks in the day of spin-off. Vice Versa some investors would keep Yahoo! stocks and sell Aabaco ( don't forget that Aabaco hold 15% of Alibaba). So it can be very likely that you can get cheap stocks of Aabaco (= Alibaba) and Yahoo!.
Intelligent Investor should see two strategies for him. First, buy Yahoo! now and sell them after spin-off and hold Aabaco securities or second, buy Aabaco securities after spin-off.
Conclusion:
1) Don't long for Yahoo!
2) Buy shares for getting Aabaco
or
3) Buy Aabaco right after spin-off