Excerpted from Artemis Capital Management letter to investors,
Risk cannot be destroyed, it can only be shifted through time and redistributed in form.
Vibrant life and rebirth comes from the acceptance of change and death in many complex systems:
The forest service has long understood that controlled burns are a more effective tool for fighting forest fires than total suppression. The act of subduing forest fires results in a dangerous build up in dry foliage that counterintuitively causes larger and larger fires.  Mother Nature will initiate controlled burns naturally via lightning strikes and this is essential to the rebirth of the forest. The trees of the great sequoia forests will not release seeds without first sensing heat from a wildfire.

 

The art of avalanche prevention in backcountry snow terrain is based on a similar philosophy. Rangers use controlled blasts to reduce snow pressure rather than risk massive uncontrollable slides.

 

Marriage therapists observe that couples that do not fight are at the greatest risk of a divorce. The couples that fight actively bring core issues to the forefront instead of suppressing their problems. Apathy is worse than anger.

 

Treatment of cancer requires extensive chemotherapy to kill the cancerous agents from the body and allow healthy cells to multiply. 

 

Treatment of addiction requires brutal recognition of the reality of the problem, personal responsibility, and immediate withdrawal from the source despite painful short-term effects.

 

The act of pruning a garden requires forcefully removing sick leaves to promote the vibrancy of the healthy plants.

 

In management science the ability to address problematic or below average employees is an essential value in the culture of many successful organizations.

 

The classic trading axiom of "cutting your losers and letting your winners ride" is an alternative form of the same idea.
All of the aforementioned natural and social phenomena have great positive exposure to change but at the expense of a short-term loss. In other words, they are long convexity.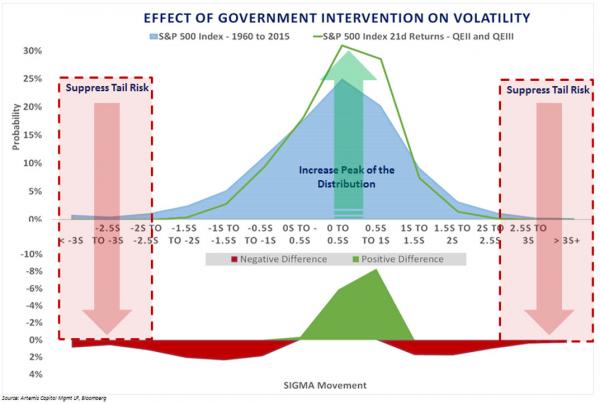 The mainstream view that central banks have suppressed tail risk is absurd and runs counter to common sense.
Policy makers have done the opposite.
Central banks have taken asset returns from the future and brought them to the present...

 

they have taken tail risk from the present and shifted it into the future…

 

that have turned private risk into public risk.
The risk is not gone... do not fool yourself.